The Japanese apparel brand which Satoshi Takahara (たかはらひろむ) established in 2001.
The design which is avant garde with a scull of ロエン as a main motif gets a golden opinion from warmness-like fans of the world.
"I am particular about both the opening and the end in their "now" to feel it without being kept to the few trendy thing.
The person arrests all concerned with the life that lives a life in the rib until I die after being born with FASHION, and ROEN (ロエン) exists.
I put up a beacon (NOROSHI) in everything about there."
/Roen (ロエン) brand concept
---
It is the boxer underwear which gold scalp lint was arranged for to black cloth.
The heart mark of the gold print which is used for a box is arranged for the front left side.
The finish that the body uses モダール of the high quality material and be superior to elasticity, and the skin jar is good.
I am printed so that sculls of the gold fill it up in the back and right become the finish called "ROEN".
The underwear that BOX was particular about the details with luster and specifications with the thickness.
As it is a roller is type, match it with upper shallow denim again.
[brand name] Roen
[article number] 3R325038
[color] Black X gold
[material]
CO (cotton) 55%
MD (モダール) 40%
5% of PL (polyurethane)
[wearing image]
BODY: (waist approximately 84 peach circumference 52.5) cm
Wearing size: 48(M) size
[size] I list it as follows
44
(XS)
About (waist horizontal placing 30.5 hips 78 rise 14.5 inseam 8)cm
46
(S)
About (waist horizontal placing 32.5 hips 80 rise 15.5 inseam 8)cm
48
(M)
About (waist horizontal placing 34.5 hips 82 rise 16.5 inseam 8)cm
50
(L)
About (waist horizontal placing 36.5 hips 84 rise 17.5 inseam 8)cm
52
(XL)
About (waist horizontal placing 38.5 hips 86 rise 18.5 inseam 8)cm
54
(XXL)
About (waist horizontal placing 40.5 hips 88 rise 19.5 inseam 8)cm
※I keep the product photograph in mind to reproduce the item on display as much as possible, but a difference occurs because of a monitor of the use.
Approve it beforehand.
I place the maker hope retail price based on a maker site


I place the maker hope retail price based on a maker site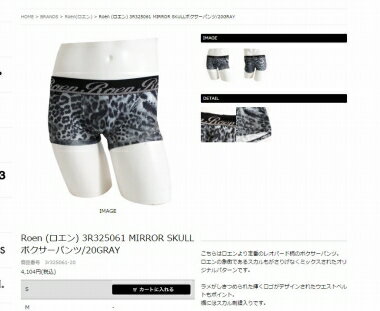 I place the maker hope retail price based on a maker site