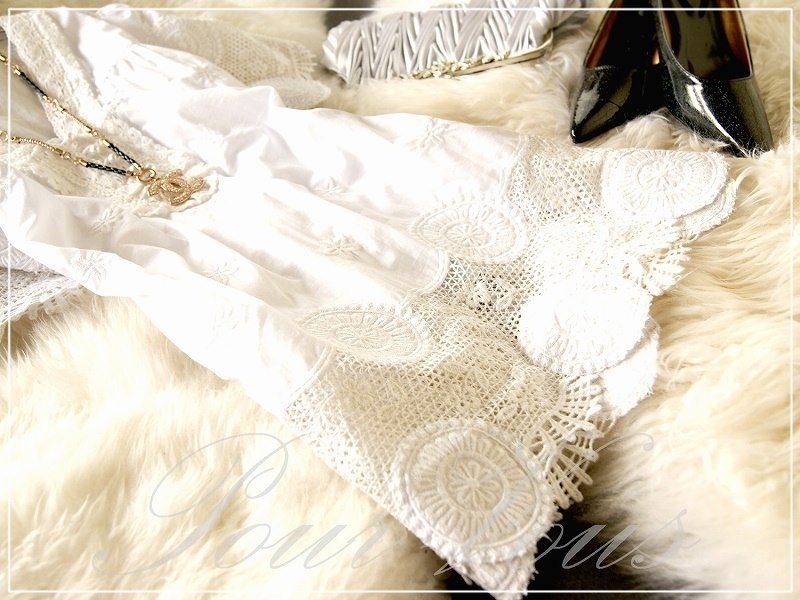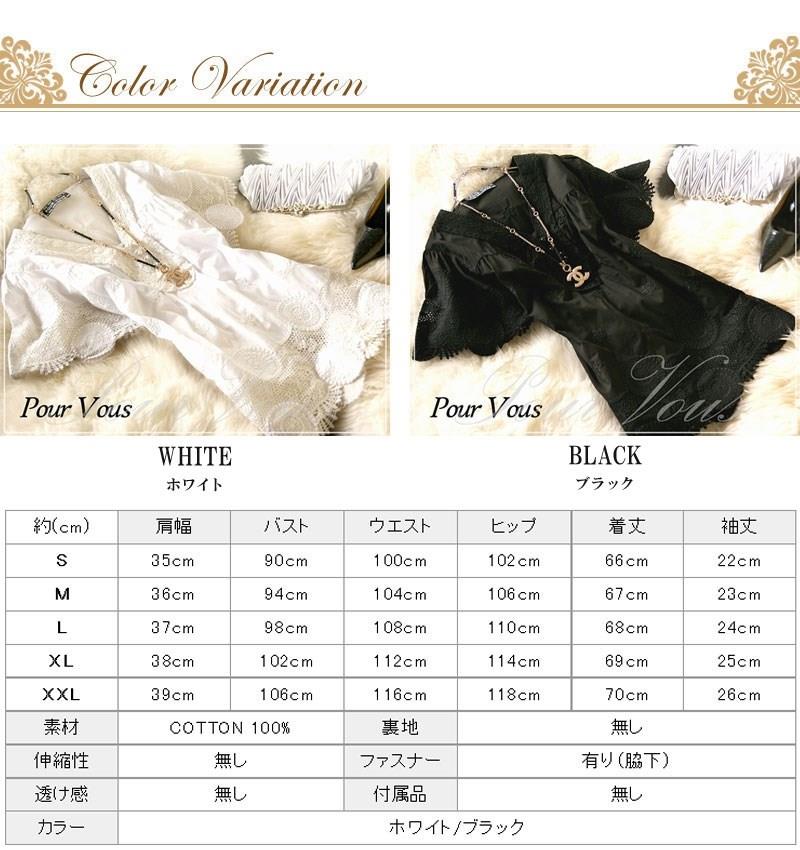 Width of the shoulders bust waist hips length length of a kimono sleeve S 35cm 90cm 100cm 102cm 66cm 22cm M 36cm 94cm 104cm 106cm 67cm 23cm L 37cm 98cm 108cm 110cm 68cm 24cm XL 38cm 102cm 112cm 114cm 69cm 25cm XXL 39cm 106cm 116cm 118cm 70cm 26cm
Material: COTTON 100%
Lining: Unavailable
Elasticity: Unavailable
A fastener: Unavailable
Translucency: Unavailable
Accessories: Unavailable
A color: White / black
In this season, I want to be called a shirt blouse beautiful woman! There is a number, but it is higher to look good with a shirt, and, as for the condition of the beautiful woman, a ranking should be one of the done items. Is smooth, and a race enters; elaborate specifications are good. Embroidery of the floral design creates you of the only one. We master wonderful wearing of the shirt blouse using beautiful の image properly variously, and let's aim at the stylish shirt blouse beautiful woman! It is reliable to play an active part such as a graduating students' party to honor teachers and a party, an event.
※It is exhibited only a dress (dress tunic). The accessories for the photograph are not attached.
Up-and-coming keyword
It is long sleeve figure cover looking thinner looking thinner upper arm what's called correct pair look parent and child pair look parent and child pair mom and matching suite pair pair parent and child cheap lovely mature pretty shop go Japanese Agricultural Standards elegant classical music classical monotone Gurley natural VERY CLASSY. that to be thin, and seen knee-length maxi ankle mi-mollet mi-mollet length length long shot length short mini medium long shot maxi length knee Shimousa race race balloon ensemble pleats American sleeve A-line tight Shin pull slender line princess line no sleeve tailored Schick ribbon slit drape change no pickpocket reshuffling asymmetry no-collar off shoulder flare docking be seen through and puts on on the liner in a comfort party dress mail order pourvous プールヴープールブー pour vous Lady's fashion supermarket sale deep-discount sale lucky bag fashion individual import clothes clothes set coordinates brei maid popularity brand gift a hairstyle souvenir import foreign countries photography washable wind Cool Biz oar season shipment immediate delivery free shipping tomorrow on the comfort same day Rakuten mail order tomorrow in Mother's Day in shoulder soup stock 2WAY compact beauty めおしゃれかわいいきれいめおすすめ sexy luxury of superior grade fall and winter with the in front of see-through microskirt length princess utility clothes ドルマンテーパードオフショル i line flare sleeve V neck v tunic high waist mermaid frill one shoulder base-up top liner loose relaxedly for half-length sleeves padded vest seven minutes with the three-quarter sleeves sleeve which there is wedding dress wedding dress four circle race clothes shirt-dress second meeting dress one-piece dress presentation dress long sleeves short sleeves sleeve knee length care of sleeve in for dress party dress 30 generations in dress ribbon dress tunic bra Ismay dodo reply pair dress clothes headdress shirt dress maternity dress nursing clothes tight skirt flared skirt lap dress tweed dress spring with the dress sleeve in size dress dress invite dress cape four circle dress maternity dress medium dress short dress afternoon having a big party dress formal dress one-piece dress wedding ceremony dress party dress long shot dress long shot dress invite dress guest dress Cache-coeur dress wedding ceremony party dress wedding ceremony dress minidress skirt long skirt colored races reply dress one-piece dress wedding ceremony lady's dress second party dress in PourVous(pv) I handle Rakuten supermarket sale supermarket SALE half price 50% OFF others less than BAILA GINGER Marisol JELLY half price and a lot of products not to put on.
Who can wear it to what kind of scene?
It is amounted, and the age can wear a new work commuting betrothal present piano presentation presentation wedding wedding widely in various scenes such as December in November in October in September in August in July in June in May in April in March in February in January on Christmas for the club summer in spring and summer in trainer casual clothes date action for marriage coordinates nursing spring and summer in usual times on セレブキャバ small build adult girl parent relative Lady's female office worker flower girl bride junior high school high school primary schoolchild junior high student high school student second party wedding ceremony second meeting graduating students' party to honor teachers banquet class reunion girls-only gathering wedding ceremony party invite party concert presentation graduation ceremony guest winter clothing piano second meeting entrance ceremony four circle 100 graduation ceremony coming-of-age ceremony celebration family celebration entrance to school graduation entering a kindergarten type entering a kindergarten graduation work university graduate garden kindergarten elementary school graduation from junior high school celebration dinner party Seven-Five-Three Festival examination omiyamairi ceremonial occasion Buddhist memorial service job hunting ceremony office business neatness Korea open day for the children women mom maternity mother mother woman of the adult Lady's maternity married woman woman pregnant woman women's wear woman clothes woman containing for 80 generations for 70 for 60 for 50 for 40 for 30 for 20 for 10 for 70 generations for 60 generations for teenage 40s 50 generations in twenties in 30s♪
About a handling size color, cloth
The handling of the size decides 5 7 8 9 10 11 12 13 14 15 16 17 18 19 XS SS S M L 2L XXL LL XL 3L 4L size very much, and the size small size small size Thor size 5 small 17 mom 17 150cm 160cm 170cm 180cm l size 70cm 80cm 90cm 120cm 130cm 140cm 70 90 100 110 120 130 140 150 160 large small that big big size is big cools down, and the cloth for cloth for white wine red beige blue white by color gold silver black bluish green gray purple camel brown check floral design waterdrop spangles pearl beads glitter embroidery bijou stripe lam light blue bluish purple yellow red Bordeaux wine lavender light blue orange yellow mint green pastel color plain fabric chiffon stretch rubber tweed linen chiffon top velour Tulle race fur nylon rayon polyester satin race tweed heavy cotton thread for crocheting suede organdy cut black race uses a lot a high-quality thing in winter in spring and summer in petit size 4mm 9.5 5cm 5 centimeters 9 centimeters navy pink green four circle red black black autumn, too.
▼Discerning search
[dress dress]
[S] [M] [L] [XL] [XXL]
[beige] [black]