Even more shiny! and the stretch fabric so
Wind chill is felt cool, still thug.
To me a big success in sultry class French design camisorlleotard please!
↑ new colors! Navy ★

Added new color "Alice blue".



3 Years 6 months [' rose pink and wear a 115 cm ' somewhat wrinkled old, loose shoulder strap and tailoring is needed.



★ Champagne Pink is 155 cm, is available.
Please contact your!
Mainstream Leotard design was reproduced in France!
It is simple, classy and somewhat mature image.
Adopt a luster, excellent stretch spandex fabric
Of course lining on the front two-thirds.
Because the breast Center is built in pull strap gathered frequently asked
Cut a square also V cut with your choice of and enjoy!
In the sultry ballet class
Are the types who actively Camisole Leotard.
Lessons of Ballet, gymnastics, dance, concert presentation of clothes as a
Please take advantage!
■ precautions ■ than actual children's height 1 choose a size above and longer wear offers.
White Leotard is one small dirt adheres to the time of manufacture.
Please note that the fall in your laundry.
Sale size
For height
105 cm
90 cm-105 cm
115 cm
100 cm-115 cm
125 cm
110 cm to 125 cm
135 cm
120 cm-135 cm
145 cm
130 cm to 145 cm
   Tips for choosing size

If the ordinary system for children if the now pretty want to dress
Please choose the size reference height of leotards.
Long called you want 1 size above must be
Please choose.
Boned Ms plump and I are 2 sizes on recommended!

This Leotard you alter the way the crotch part inside the
Collapse stop sewing a shoulder strap on the back side.
Shrink or sewing.
155 Cm = support tall 140 ~ 155 cm.



When chilly this is "Cardigan (4 colors' recomendations ↓
↓ 1700 yen and increasingly selling cheap!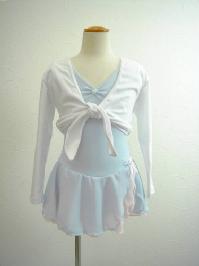 + + + + + + + + Together bought and shipped to bargain is!
+ + + + + + + + + + + + + + + + + + + + + + + + + + + + + + + + + + + + + + +