★ ★ discontinued products ★ ★
★ Please pardon is sold out so this product will be discontinued, but sell it at other stores. If you cannot deliver we will contact by mail or telephone. ★
Size: approx. 392 (W) × 46 (H) x 262 (D) mm (collapsed)
Weight: 1720 g approx. (including battery)
15. 6 inch TFT LCD screen 16:09 1366 × 768 resolution
Battery operating time: approx. 4 hours charging time / duration 2 hours * may dwarf charging time varies depending on the environment.
Input/output terminals: output terminal: output, earphone output terminal / input terminal AV input terminal
Accessories: manual, remote control, AC adapter, DC adapter for automotive vehicles-
Specifications are subject to change without prior notice for product improvement and plant quality.
Cast product photo is inset synthetic.
Photos of products that use various types of information in images, and may slightly differ from the actual product.
There is a different appearance depending on PC environment about the color of the product. Please contact us if you, any questions about subtle shades.
Also sells in-store shop for the stock is lost due to the timing of your order. Please please understand beforehand inform you again to do so.
* Specifications are subject to be changed. Please be forewarned.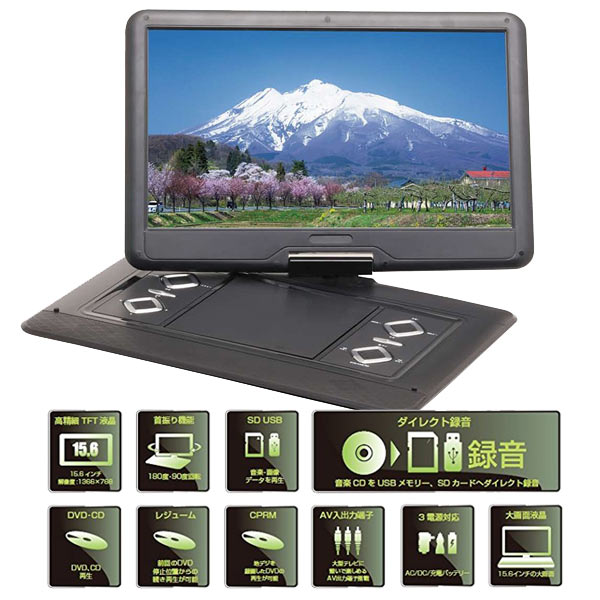 Related products
| | | |
| --- | --- | --- |
| | | 11,900 yen |
| | | |
| --- | --- | --- |
| | | ¥ 2,990 |
| | | |
| --- | --- | --- |
| | | 3,240 Yen |
| | | |
| --- | --- | --- |
| | | 2,980 yen |
| | | |
| --- | --- | --- |
| | | 2,980 yen |
| | | |
| --- | --- | --- |
| | | 3,890 Yen |
| | | |
| --- | --- | --- |
| | | 2505 Yen |
| | | |
| --- | --- | --- |
| | | 2505 Yen |
| | | |
| --- | --- | --- |
| | | 7,680 Yen |
| | | |
| --- | --- | --- |
| | | 7,680 Yen |
Misc | sundries | appliances
Charge battery!
Powerful video to enjoy anytime, anywhere
Portable DVD player

Item number:ZM-156
* This product is delivered to Okinawa and remote islands cannot accept.
Please be forewarned.

-Large screen, high-definition TFT LCD (1366 × 768) equipped with 15.6-inch Portable DVD player.
-CPRM/VR mode can play in digital recording DVD support and region-free supports also foreign DVD viewing possible.
-Resume functionality: it is possible to continue playing from the previous DVD stops.
-3 power supply response: household AC adapter • cigarette adapter and built-in battery in the car or home or outdoors you can enjoy.
-Audio and video playing in the body in the external inputs and outputs on another monitor and enjoy.
You can also view televisions if furuseguchuna, such as typing.
-SD card slot USB port equipped so image data of external music playback is also possible.

Power supply: 100 ~ 240 V 50 / 60 Hz DC 12 V 1.5 A
Dimensions: approx. 392 (W) × 46 (H) x 262 (D) mm (collapsed)
15. 6 inch TFT LCD screen 16:09 1366 × 768 resolution
* 4: 3 PS, 4: 3 LB video DVD discs are not supported.
Product weight: 1720 g approx. (including battery)
Suggested working work temperature: 0-40 degrees
Compatible formats: DVD, DVD-R/RW (including the VR mode /CPRM recording), CD,-r/RW, JPEG, MP3, WMA, AVI (for the maximum resolution: 720 × 480)
* RECORDING beyond the two-hour live TV can not play normally.
Power consumption: 18 W
Output terminal: output, earphone output jack
Input jack, AV input jack
Interface 2.0 port (USB flash drive only supports up to support up to 8 GB), SD memory card, SDHC memory (for up to 8 GB)
Speaker output:2.0W × 2
1800mAh rechargeable battery:DC7.4V
Battery playing time: approx. 4 hours charging time / duration 2 hours * may charge duration varies depending on the environment.
Accessories: manual, remote control, AC adapter, DC adapter for automotive vehicles-, AV cable, earphone


Manufacturer contact information
Revolution co., Ltd.
Phone number
Toll free: 0120-572-818
General phone: 06-6121-8110
On weekdays 9-17 pm



UPC: 4571212975517
[Free shipping]