A color: SC24BW (blue tape, lindera) /SC24GW (green tape, lindera) /SC24RW (red tape, lindera) /SC24YW (yellow tape, lindera) /SD24KW (black tape, Chinese classics character) /SM24XW (silver tape, lindera) /SM24ZW (gold tape, lindera) /SS24KW (white tape, lindera) /ST24KW (transparence tape, lindera) /ST24SW (transparence tape, Chinese classics character)
Size: Tape width 24mm/ tape long 8m (the pure same class)
A support model: The テプラ Pro body corresponding to the tape of the / SR330 / SR530 / SR670 / SR750 / SR970 / SR3500P / SR5500P / SR5900P / and others 24mm width
A pure article number: SC24BW, SC24GW, SC24RW, SC24YW, SD24K, SS24KW, ST24KW
A product guarantee: One year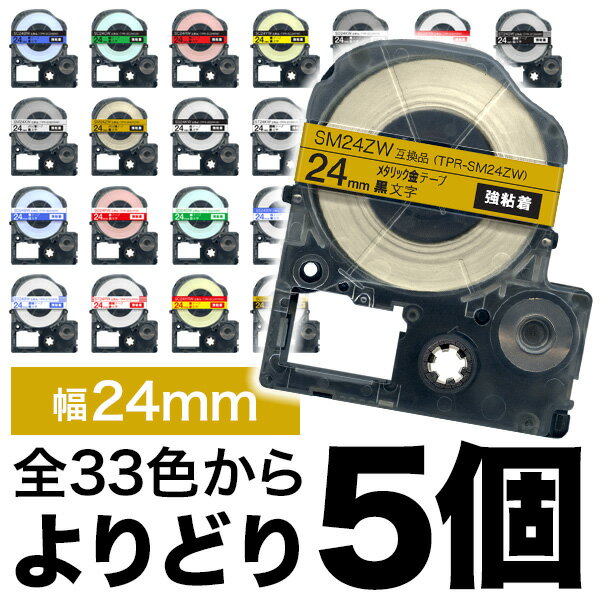 Other lineups
Product concerned
| | | |
| --- | --- | --- |
| | | 400 yen |
| | | |
| --- | --- | --- |
| | | 400 yen |
| | | |
| --- | --- | --- |
| | | 400 yen |
| | | |
| --- | --- | --- |
| | | 600 yen |
| | | |
| --- | --- | --- |
| | | 700 yen |
| | | |
| --- | --- | --- |
| | | 400 yen |
| | | |
| --- | --- | --- |
| | | 400 yen |
| | | |
| --- | --- | --- |
| | | 400 yen |
| | | |
| --- | --- | --- |
| | | 600 yen |
| | | |
| --- | --- | --- |
| | | 700 yen |
Stationery | Electronic stationery | テプラ
A product number: QR-FC-TPR-N24-5
I can choose five favorite tape colors freely!
A テプラ "free choice" of the 24mm width set!
Choose choice, the favorite color five in total; a good bargain!
※Please choose five favorite colors.
For cost reduction! Tape cartridge compatible with キングジムテプラ PRO
・Strong adhesion type to be able to put well
・A cut enters the tape mount and is easy to tear it off
・Tape long 8m (the pure same class)
・With one-year product guarantee
[attention]
・For a compatible article, a color may be slightly different from the pure article.
・There is the tape width that I cannot use depending on a model of テプラ. Please confirm it beforehand.
・Specifications and the appearance of the product may be changed without a notice for improvement. Thank you for your understanding beforehand.
[free shipping]