Natural milk paint
Butter Milk 946ml
Features
Environment and human friendly
The Butter Milk paints are made mostly from natural pigments and milk casein.
Beautiful colors
Reproducing with fidelity the colors created during the American pionneers era.
Easy to paint and to spread
Can be painted without special preparation of the surface!
Paint with great adhesive qualities and almost odorless♪
Details
Contents
946ml
Application surface
(for 2 coats)
6.0m2
Standard of application
Bed1、Desk1、Chair4
Major ingredients
Remains of milk made butter
earth, mineral and water
More details here.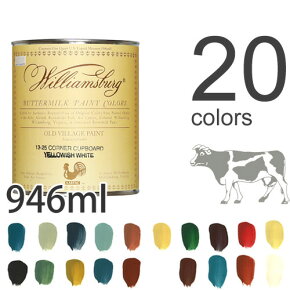 How to realize a clean application
Remove all dirt, dust, grease and other surface contaminates.
Take care of cracks and voids with some putty.
Even and smooth the surface with sandpaper
Thinning should not be necessary, but if needed use only a little water
Can be applied by roller and brush.
It is better not to apply too thick coats
※Avoid to apply thick coats. If the paint is difficult to paint, use a little water. The method of application is the same as with water paint.
20 colors are available