Feeling of that is ethnic cloth, color みの horizontal stripes underwear
A feeling of with full of a feeling of ethnic cloth, horizontal stripe culottes underwear of the coloration. It is the colorful design with the impact, but the expression that is rich in cloth for color みや is born as it is a bit big horizontal stripes that are easy to coordinate by using reliable ♪ gradation yarn. メンズライクなゆったりしたシルエットですので、脚がスッキリ細く見える効果も♪
I add the waist to rubber specifications, and the belt rope of the decoration includes it. As the belt loop of the front desk is attached slightly below, a rope is shown neatly by Topps.
---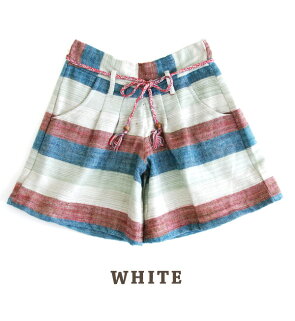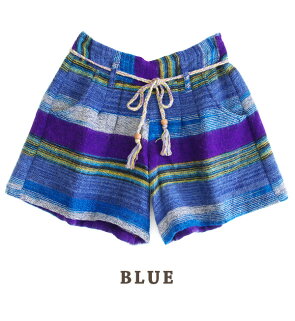 Exact size
Waist approximately 68-86cm (with rubber only after holder size - time / which I enlarged)
Length approximately 41cm (beat waist part approximately 6cm) hips approximately 118cm passes; approximately 38cm in width
It is rise approximately 31cm inseam approximately 17cm hem approximately 42cm in width after previous rise approximately 27cm
※Size is our store horizontal placing exact size size. It may be different from the notation of the tag. The details of the sizeThisから.
Material
100% of acrylic
Washing indication
Country of origin
Product made in India
Lining
Unavailable
Expansion and contraction of the cloth
I do not expand and contract
Translucency of the cloth
I am not almost transparent
Color
White(rather deep ivory, extremely light green, bluish green, reddish brown)
Blue(rather deep purple, light blue, dark blue, blue, yellow, ivory)
※() It is inner は horizontal stripe color.
Precaution
▼This product uses cloth made in India. A texture wound, dyeing may be capricious. In addition, for manual labor, size includes some unevenness, but please enjoy different textures as one of the characteristics of a product one by one.
▼As there is some discoloration, you share it with others, and, at the time of washing, please wash it. In addition, in a property of the material, approve it as some shrinkages appear by washing. I would like use after I have you wash it once.
▼You repeat it with getting wet and put it, and please be careful about other clothes when you got wet with friction (friction in the particularly wet state) and sweat or rain as you may do color migration.
▼There is the characteristic that is easy to become the pilling (pill). Please wear it on this occasion after removing it with scissors without pulling it forcibly.
▼You use sensitive cloth, and scratch, and it is catch and that I breathe it, and it is a property, and please be careful for accessories and a belt, friction and the catch with the coarse thing of the surface including neighboring walls at putting on and taking off.
▼In the characteristic of the product, some individual difference produces nuances the way of coming out of size, patterns by all means by a collecting position of the cloth, and an image and an expression may be different.
▼Before the handling, please confirm mention of the tag attached to the product.