This product After February 15I am going to send it out sequentially.

※As for other products ordered at the same time  After February 15 It becomes the の shipment.
As I did not hear the payment in installments, thank you for your understanding.
The wearing photograph may be a little different from a real color. Reference give the color a lower product photograph. In addition, please refer willingly if there is worry.
Use of approximately 157cm tall deep green, medium size:I check coordinates
Use of approximately 163cm tall lemon yellow, medium size:I check coordinates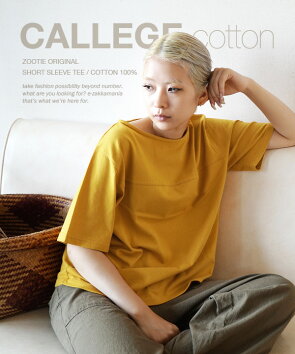 Deep green medium size: 157cm
Soda medium size: 164cm
Classic cut-and-sew series to become one piece
Our store original brandzootie (zoo tea)But, new suggestion of the wardrobe to send"College cut-and-sew series". This series boasting color variations not to spoil originality while pursuing easiness of mix-and-match added a new color and appeared again!
The characteristic of "the college cut-and-sew series?"
"College cut-and-sew series"Oh, the cloth limits the silhouette to "wearing it as sub" "wearing it as Maine" neither, too. Other cut-and-sew series of our store,Daily coordinates cut-and-sewやCo-flathead inner cut-and-sew"Just right" sizing and thickness of the cloth that were suitable for arrival at one piece more when I compared と. It is worn with cloth for 100% of good elastic cotton per skin naturally willingly and is most suitable for a daily item!
The size development that ぴったりが is found in.
It becomes the moderate space design worn with one piece and is the item which it is easy to take in for coordinates as a T-shirt. In the impression that is three-dimensional without a change being classified into a chest, and becoming monotonous. Furthermore, wear it at best size as become 3 size development that kept to large size of M L, LL;, too and. Wear ゆるっと size grain size;, too and. Is available to preference; choose you, and is 代.
---
※I write a unit (cm), the mean of the measuring sample.
※The size mentioned above is our store horizontal placing exact size size. It is different from the notation size level such as product tags (Japanese Industrial Standards nude size). The details of the sizeThisから.
※One point of one point size nuance are a little different. If there is worry, please refer willingly.
Notation size
<< medium size >> << large size >> << LL size >>
Material
The body: 100-percent-cotton
The other cloth: 5% of cotton 95% polyurethane
Washing indication
Country of origin
Product made in China
Lining
Unavailable
Expansion and contraction of the cloth
I expand and contract moderately
Translucency of the cloth
Deep color: I am not almost transparent
A light color: There is translucency slightly
Color
Lemon yellow(yellow dark brightly)
Soda(thin mint blue)
Deep green(discolored a little the dark green with the feeling)
Blue(blue including the navy)
Chocolate brown(bright dark brown)
White(bright white)
Charcoal(strong gray of the black place)
Black(standard black)
Orange red(strong dark orange of the redness)
Mocha beige(light Mocha including the beige)

Product concerned
●TogetherHorizontal stripe Ver.もございます!
●For coordinates matching in families!Kids sizeにMen's sizeもございます
●A design is various! Furthermore, it kept kids and the men's model, too,
College cut-and-sew seriesList of products

Precaution
▼For lappingzootie cell flapping kit[large size] is recommended.
▼You repeat it with getting wet and put it, and please be careful about other clothes for a long time when you got wet with friction (friction in the particularly wet state) and sweat or rain as you may do color migration. In addition, you divide it with other things, and please wash it as you may make color migration on the occasion of washing.
▼In a characteristic of the material, I shrink by washing and cleaning to some extent, and (the state that it seems that the whole product is twisted) to skew may grow.
▼Before the handling, please confirm mention of the tag attached to the product.