KRIFF MAYER ( cliffmeyer )
To expand the feeling of relaxation while based on casual, outdoor and marine taste dropped items KRIFF MAYER ( cliffmeyer ). Is a branded dairy combines comfort and cuteness were proposed.
The good thing about leaving. Now in the shape of a simple
Knit appeared in 2012 / 13 AW version here. Cheek was tender lumps fair Isle pattern impression intact to last more than a simple silhouette and be more readily, more extensive code!
Silhouette's width and sleeve spacious have raglan sleeves. In one piece in the early autumn. If Inn long sleeve during the cold season is a long season a big success. Short sleeve knit is convenient!
ライトニット soft, so will vary according to the figure of people who wear a beautiful silhouette. Very active inner coat of layered shirts and even me! Is attractive, happy to wear a warm tingling feeling less wool mixed knit.
---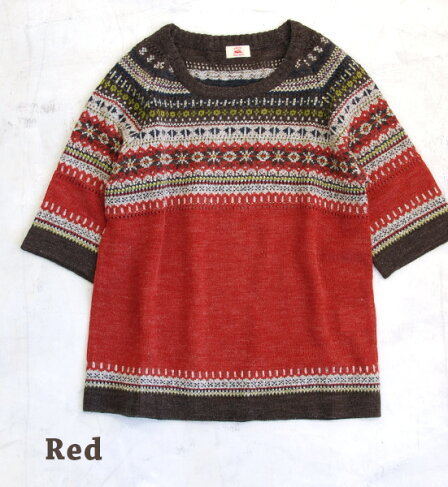 Notation size
"M-size" (one size)
79 – 87 Cm bust 154-162 cm tall
Actual size
Chest 96 cm length 66 cm sleeve length approx. 55 cm sleeve 30 cm
West 106 cm hem around 102 cm 20 cm low-cut-cut deep, 10 cm
* This item is not represented is the size of the shoulders, sleeves, armholes tailoring on the switch of the shoulder is not designed for.
* The size is our open space is the exact size. May differ from the representation of the tags. Click here for details.
Material
Acrylic hair 65% 25% cotton 8% polyester 2%
Washing instructions
Production country
Made in China
Lining
Without
Stretch fabric
The stretched nicely
Sheer fabric
See-through from the stitch
Color
Red ( light red × dark brown, yellow, dark blue, ivory, etc. )
Brown ( dark brown x Mocha Brown, red, ivory, Navy, Khaki, etc )
Gray (-light blue grey x Navy Blue, red, ivory, Brown, etc. )
Navy ( slightly whitish Navy x dark brown, yellow, ivory, etc. )
* ( ) within the main body color x is a color pattern parts
Related products
Fair Isle pattern parka long Cardigan , vest , shorts .
* Pattern is somewhat different from the
There is a Nordic pattern Cardigan
* Fabric mixing rates vary according to the
KRIFF MAYER ( cliffmeyer ) product list
Points to note
• Knit nature, just "thread seams" and somewhat "fray", also in shapes and sizes prone individual product is.
▼ remains wet for a long time, put in wet friction (friction in particularly wet) and sweat and rain: and other apparel to decontamination if so please with your mind. Also, please wash and other things.
• This product, on the characteristics of the material by washing and cleaning slightly shrinks the resulting diagonal line (State looks twisted the entire product).
▼ characteristics on the products, the dough taking positions just some individual differences, such as pattern and nuances, different images and facial expressions. Also does not match the pattern in the seam to necessarily.
▼ Please check also comes with tag described before handling.