A cute pop geometric pattern dress
rivet and surge ( rivet & surge ) The colorful pop coloured geometric pattern dress. Small V skipper design open-cut-the lovely Walnut buttons. It is drew gather in the shoulder and chest, sweet silhouette. Spread from the chest down and soft skirts, body cover & leg effects outstanding! Is one piece with a strong presence, so more was and is stylish enough, just by putting in one piece.
---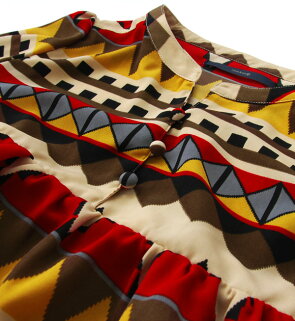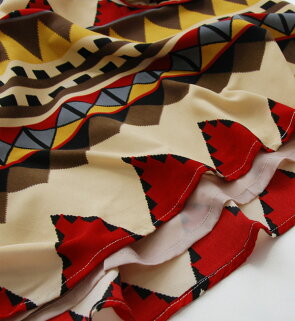 V neckline open letters and Walnut buttons. Contains the switch gathers from the chest down.
The dough thin, semi gloss. From the switch below the chest lining is a less transparent.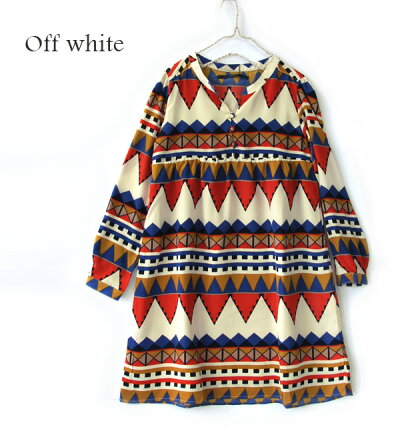 Notation size
"M-size" (one size)
Actual size
Ringtones shoulder 36 cm bust 90 cm length 86 cm sleeve length 56.5 cm
Sleeve length 74.5 cm 43 cm arm holes approximately 19 cm cuff
About 106 cm waist hip 128 cm lining-length about 57 cm ) ( chest under the transition piece from
20 Cm low-cut neckline depth 12 cm
* The size is our open space is the exact size. May differ from the representation of the tags. For more information of the size Click here From.
Material
100% Polyester
Washing instructions
Production country
Made in China
Lining
Polyester 100% (solid color with gloss does not stretch material)
* Common, pale dusky pink beige is the color
Stretch fabric
Do not stretch
Sheer fabric
May slightly sheer
Color
Off white ( slightly yellowish White x red, blue, fading, etc. )
Beige ( light beige with yellow x red, mustard, Brown, grey, etc. )
Fading ( thin cocoa beige x Navy Blue, black, Brown, dark orange, etc. )
* ( ) in a primary color x is a color pattern
Related products
The same dough Flared skirt Also available
* Different from the color palette
Points to note
▼, because we have to wash the product after the sewing, this product is slightly distorted as products of distinctive enjoy wearing every wrinkle, Atari etc are found subtle colors blur or Fuzz, etc.,.
▼ uses delicate fabrics, hook, please note so easy catching nature and friction and rough surface, such as during insertion and removal, the accessories, belt and surrounding wall and caught.
▼ remains wet for a long time, put in wet friction (friction in particularly wet) and sweat and rain: and other apparel to decontamination if so please take care.
• Subject characteristics on the products, the dough taking positions just some individual differences nuances and attitude of the size, design, different images and facial expressions.
▼ Please check also comes with tag described before handling.