Border pattern x native handle different materials substitution one-piece
Border pattern with soft soles hair sweat material in the lead role, chest & one piece in multi-border pattern yoke portion is plenty of ニットソー material of the native handle and NEP of switched. Popular different material switch design been taken boldly. Yuni only wide body lines per order of I saw with accessories, sizing is so worn on one salary and also excellent presence! Is also easy to ヘビロテ so easy to coat even the outer point.
---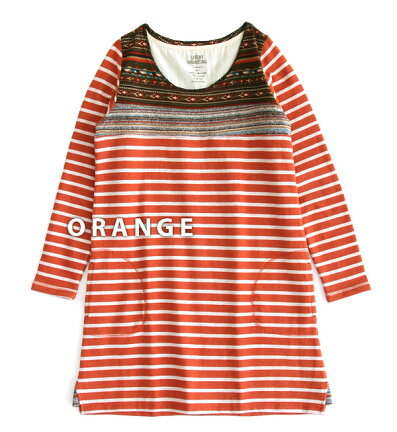 Notation size
"M-size" (one size)
79 – 87 Cm bust 154-162 cm tall
Actual size
Bust 92 cm, shoulder width 35 cm cm, length 83 cm sleeve length 59 cm sleeve length 76.5 cm.
Armholes about 42 cm sleeve 20 cm waist: 98 cm hem around 110 cm
22 Cm low-cut neckline depth 13 cm
* The size is our open space is the exact size. May differ from the representation of the tags. Click here for details.
Material
Body: polyester 65% cotton 35%
Fabric: cotton 100%
Border: acrylic 60% cotton 20% polyester 20%
JQ: polyester 51% nylon 17% cotton 16% hair 14% acrylic 2%
Washing instructions
Production country
Made in China
Lining
Without
Stretch fabric
The stretch a lot
Sheer fabric
Little 透けません
Color
Orange ( dull Orange x ivory size: sense of )
[/ C dark brown, light blue, ivory, Orange, etc.]
Green ( dark green x Navy )
[Navy Blue, blue, yellow and dark brown / dark pink, etc., gray, beige, blue, brick, etc.]
Navy ( Dark order of the Navy x ivory size: sense of )
[, Orange, purple, ochre, dark green and beige, gray, yellow, red and green, etc.]
* Upper ( ) in a border color, lower [] color top-/ middle portion is in
Points to note
▼ so time remains wet for a long time, put in wet friction (friction in particularly wet) and sweat and rain, other clothing to decontamination if you like! Also please alone wash during the wash.
• This product, on the characteristics of the material by washing and cleaning slightly shrinks the resulting diagonal line (State looks twisted the entire product).
• This product is a special products. By print is not permanent, or more, to be rubbed and easier to fall off, repeat the washing and cleaning slightly thinner. Please also avoid ironing to the printed piece and stitching parts.
▼ Please enjoy as a characteristic of the product may be individual differences prints tints, but.
▼ characteristics on the products, the dough taking positions just slight individual difference nuances and attitude of the size, pattern, different images and facial expressions.
▼ Please check also comes with tag described before handling.