The wearing photograph may be a little different from a real color. Reference give the color a lower product photograph. In addition, please refer willingly if there is worry.
Use of approximately 160cm tall black:I check coordinates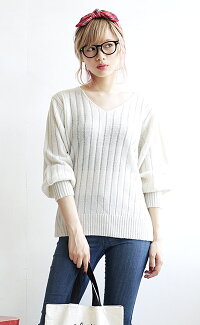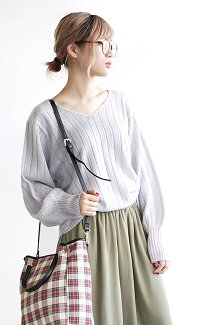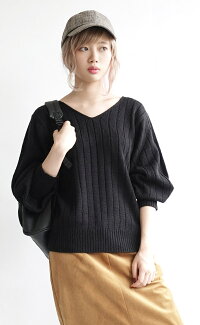 I am matched with anything! I look good with one piece! Excellent items more than a price
A popular knit pullover adds seasonal "yellow", and a feeling of fabric which is not too monotonous only by the rib comes up this year! It is sweet, and a knit thin knit material adjusts to the physical line neatly.
In the impression that it is an adult-like for an unhurried size feeling to an opened V neck clearly. It is the item with the mix-and-match power with convenience to look good just to wear it with one piece lightly.
---
Notation size
<< M-L size >> (one size)
※It is the size of tag mention. The recommended size of our store based on wearing comment of the staffSTAFF VOICEPlease give me をご 覧.
Exact size
Total length approximately 59cm chest measurement approximately 104cm width of the shoulders approximately 38cm
Length of a kimono sleeve approximately 56cm armhole approximately 54cm cuffs approximately 17cm
Approximately 14.5cm in depth of the approximately 18cm in width neckline of the hem circumference approximately 90cm neckline
※The size mentioned above is our store horizontal placing exact size size. It is different from the notation size level such as product tags (Japanese Industrial Standards nude size). The details of the sizeThisから.
Material
100% of acrylic
Washing indication
Country of origin
Product made in China
Lining
Unavailable
Expansion and contraction of the cloth
I expand and contract moderately
Translucency of the cloth
I am transparent from a stitch
Color
Ivory(slightly darkish ivory)
Ice blue(thin light gray with the blue)
ダスティーピンク(darkish thin pink)
Yellow(vivid lemon yellow)
Camel(dark beige containing the Mocha)
Black(standard black)

Product concerned
Of our storeList of knitwear products
Precaution
▼For lappingzootie cell flapping kit[large size] is recommended.
▼Also, in a knit property, "the joint of the thread" and some "raveling" are the products which individual difference is easy to produce to form and size by all means. I hope that you can understand.
▼You repeat it with getting wet and put it, and please be careful about other clothes for a long time when you got wet with friction (friction in the particularly wet state) and sweat or rain as you may do color migration. In addition, you divide it with other things, and please wash it as you may make color migration on the occasion of washing.
▼In a characteristic of the material, I shrink by washing and cleaning to some extent, and (the state that it seems that the whole product is twisted) to skew may grow.
▼Before the handling, please confirm mention of the tag attached to the product.