The wearing photograph may be a little different from a real color. Reference give the color a lower product photograph. In addition, please refer willingly if there is worry.
Use of approximately 155cm tall light beige:I check coordinates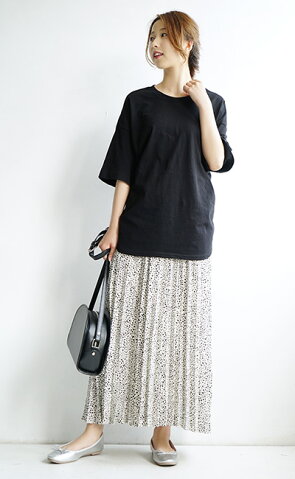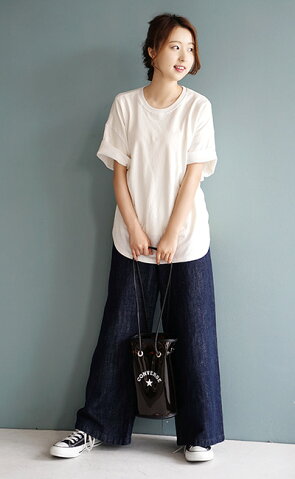 Black: 155cm
White: 155cm
Use of approximately 155cm tall white:I check coordinates
Use of approximately 155cm tall black:I check coordinates
"Back ribbon" of the exquisite balance sweet moderately
I look like a casual plain fabric T-shirt and, in fact, design girly back conscious. The ribbon part shows an inner by the design which some backs look like and is pretty even if I play!
The material uses "the open end cotton thread" which an atmosphere such as the vintage cotton is over; a part except the rib is 100-percent-cotton material of the nature material. Conscious Tee of adult concerned with both material and a design.
---
Use of approximately 155cm tall white:I check coordinates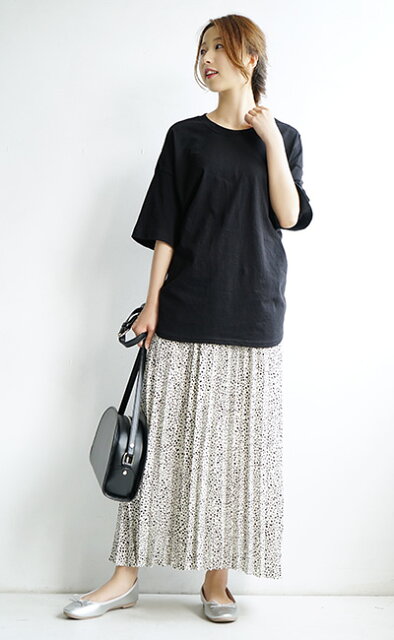 Left / black: 155cm top right corner / white: 155cm lower right / light beige: 155cm
Use of approximately 155cm tall light beige:I check coordinates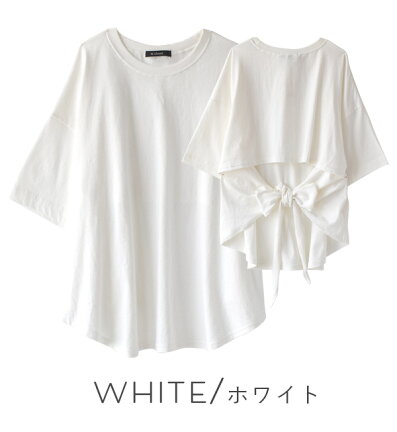 Notation size
<< adjustable size >> (one size)
※It is the size of tag mention. The recommended size of our store based on wearing comment of the staffSTAFF VOICEPlease give me をご 覧.
Exact size
Total length approximately 67-36 (after previous -) cm chest measurement approximately 121cm width of the shoulders approximately 57cm
Length of a kimono sleeve approximately 18.5cm armhole approximately 45cm cuffs approximately 40cm
Approximately 8.5cm in depth of the approximately 15.5cm in width neckline of the hem circumference approximately 130cm neckline
※The size mentioned above is our store horizontal placing exact size size. It is different from the notation size level such as product tags (Japanese Industrial Standards nude size). The details of the sizeThisから.
Material
The body: 100-percent-cotton
A rib part: 5% of cotton 95% polyurethane
Washing indication

※Please use a net on the occasion of washing.
※Please use expectation cloth on the occasion of an iron.
Country of origin
Product made in China
Lining
Unavailable
Pocket
Unavailable
Expansion and contraction of the cloth
I expand and contract a little
Translucency of the cloth
There is translucency a little
Color
White(the white that is a standard)
Light beige(light るめの sand beige)
Black(the black which is a standard)

Product concerned
●List of w closet (double closet) products
●Of our storeList of T-shirt products
Precaution
▼For lappingzootie cell flapping kit[large size] is recommended.
▼Because this product uses sensitive material, after washing, approve it beforehand as some shrinkages and getting out of shape, (the state that it seems that the whole product is twisted) to skew may produce it.
▼You repeat it with getting wet and put it, and please be careful about other clothes for a long time when you got wet with friction (friction in the particularly wet state) and sweat or rain as you may do color migration. In addition, you divide it with other things, and please wash it as you may make color migration on the occasion of washing.
▼In a characteristic of the material, I shrink by washing and cleaning to some extent, and (the state that it seems that the whole product is twisted) to skew may grow.
▼Before the handling, please confirm mention of the tag attached to the product.