Gary border patterns that MIX florals!
Girly Tulip pattern border pattern in a mixture, w closet ( ダブルクローゼット ) The knitwear. Parallel pattern in knitting the watermark line, along inner look at a glance and from there. Finish the atmosphere at neckline, hem and cuffs become color impression is sharper and the adult women who are also easy to use. Jacquard woven knits using a tender. Not too thick, too thin, so ideal for layering. Slightly drop shoulder, slightly slack that is merely picked up the body line is the width, so, without resistance main use and easy silhouette.
---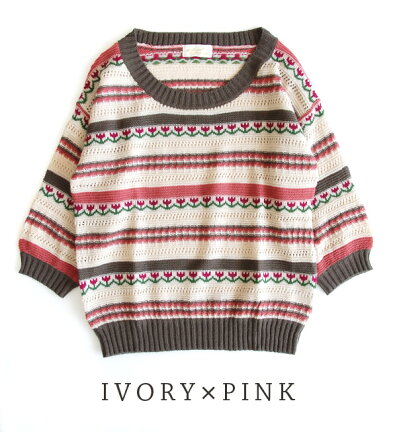 Notation size
"One size fits all."
Actual size
Bust 96 cm, shoulder width 51 cm cm, length 54 cm sleeve length 31 cm sleeve length 56.5 cm's
Armhole 36 cm sleeve 20 cm waist 92 cm hem around approx. 66 cm
20 cm low-cut neckline depth 11 cm
* The size is our open space is the exact size. May differ from the representation of the tags. For more information of the size Click here From.
Material
Acrylic 70% hair 30% (slit yarn used)
Washing instructions
Production country
Made in China
Lining
Without
Stretch fabric
The stretch a lot
Sheer fabric
See-through from the stitch
Color
Ivory / pink
( Ivory and dark because of, モカグレー, dusky pink, magenta, green and silver lame )
Ivory / blue
Ivory, Brown, blue, red, green and silver lame, etc. )
Charcoal / pink
( dull cyan, dark order of モカグレー, dusky pink, Orange, green and gold lame, etc. )

Points to note
▼ your laundry with dry cleaning please.
▼ Properties prone to pilling ( hairball ). Please wear where it is and when to remove with scissors.
▼ uses delicate fabrics, hook, please note so easy catching nature and friction and rough surface, such as during insertion and removal, the accessories, belt and surrounding wall and caught.
▼ remains wet for a long time, put in wet friction (friction in particularly wet) and sweat and rain: and other apparel to decontamination if so please take care.
▼ may shrink slightly by cleaning on the characteristics of the material in the oblique line (State looks twisted the entire product).
• Subject characteristics on the products, the dough taking positions just some individual differences nuances and attitude of the size, design, different images and facial expressions.
▼ may extend cm long hanging on hangers and in handling care please.
▼ Please check also comes with tag described before handling.