The wearing photograph mentioned above may be a little different from a real color. Reference give the color a lower product photograph. In addition, please refer willingly if there is worry.
Use of approximately 168cm tall pink beige:I check coordinates
Light stall of the lively pattern change that I want to enjoy by various winding
The light stall that changed the floral design of the different touch and a stripe pattern, a dot pattern by a print. The fringe which both sides that just jumped out of the side body twisted is gentle; accentuate. The material is light and, in an air permeable good rayon material, can prevent heat and cold measures and the sunburn willingly in a long season.
Not only as is large size size, bind a neck, but also the shawl errand is ◎., too As it is different in a pattern to appear by winding, I seem to be able to enjoy a various expression♪
---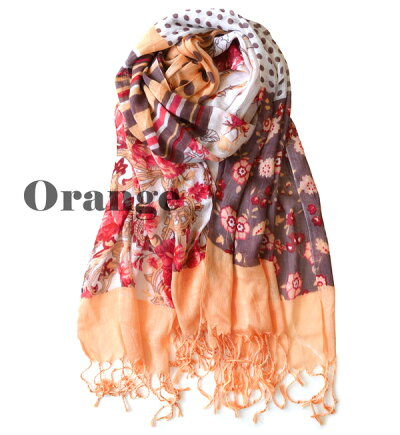 Size
Approximately 172cm in length (I remove a fringe) approximately 60cm in width fringe approximately 9cm
※As it is the product which individual difference is easy to produce, please take the indication size into account as an aim.
※The size mentioned above is our store horizontal placing exact size size.
Material
100% of rayon
Washing indication
Country of origin
Product made in China
Color
Orange(whitish orange, reddish brown, off-white, red, pink beige)
Pink beige(darkish pink beige, light purplish red, beige off-white)
Moss-green(darkish light green X reddish brown, yellow ocher, off-white)
※In our store a maker tag a product of "PINK" "an orange,"
I sell a product of "BEIGE" as "pink beige".

Precaution
▼You repeat it with getting wet and put it, and please be careful about other clothes for a long time when you got wet with friction (friction in the particularly wet state) and sweat or rain as you may do color migration.
▼In the characteristic of the product, some individual difference produces nuances the way of coming out of patterns by all means by a collecting position of the cloth, and an image and an expression may be different. In addition, a pattern may not necessarily match in a sewing together part.
▼This product uses very sensitive cloth. As a seam opens and has the property that eyes stop by (the slip stitch of the weaving thread opens), and they do, please warn him not to be caught on the risings such as a clock, the accessories belt in the case of wearing, putting on and taking off.
▼As there is some discoloration at the time of washing, you have you be accompanied and put it and avoid washing it, and you divide it with others, and please wash it in one piece of article. In addition, at the time of washing, I may shrink slightly.
▼Before the handling, please confirm mention of the tag attached to the product.