May differ from actual colors pictured above wearing a little. Please see the product pictures below color. Also, if you have any concern, please feel free to contact.
Height 161 cm Blue using: Check the code
Right now, seems to be a vivid impression flower print skirt
Our original brand Zootie ( ズーティー ) The striking color and blur touch flower print skirt. Use the fabric for an elegant impression, similar to crepe dough. By putting the box pleats on the front are born rich flares. West front is flat, back in rubber specifications トップスイン OK is. With lining and lightweight.
---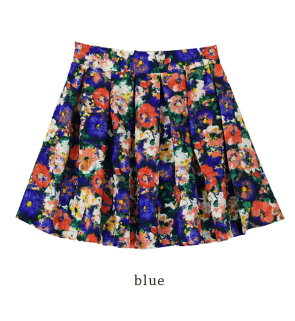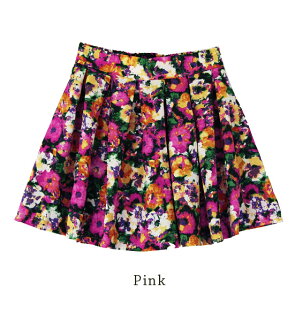 Actual size
Waist 64-84 cm ( position sizing – when spread with rubber and after only )
About 40 cm, skirt length ( out west approx. 4.5 cm ) hips 84 cm (measured lining)
Lining-length about 35 cm from the West ( )
* Above sizes are our flat place exact size it is. Is different from the notation size value nude ( JIS standard size ) merchandise tags, etc. For more information of the size Click here From.
Material
100% Polyester
Washing instructions
Production country
-Made in Korea
Lining
To stretch the fabric a shiny solid
"Color."
Blue: Blue
Pink: mustard color
Stretch fabric
Do not stretch
Sheer fabric
透けません
Color
Blue (Purple-leaning blue, red, green, black and ivory etc)
Pink (Dark pink, ochre and violet, green and ivory etc)

Points to note
▼ remains wet for a long time, put in wet friction (friction in particularly wet) and sweat and rain: and other apparel to decontamination if so please with your mind. Also, wash may dye when washing to separate other things.
▼ may shrink slightly by washing or cleaning on the characteristics of the material in the oblique line (State looks twisted the entire product) discoloration.
• There may be characteristics on the products, take position of the fabric creates a pattern and nuance slight individual difference, different images and facial expressions.
• By repeated washing with water or cleaning, easy to print is not permanent, or more, to be rubbed and dropped somewhat thinner.
▼ Please check also comes with tag described before handling.