Writing romantic floral pattern, spring and summer perfect sheer leggings
Now I want footwear! The protagonist of shadow at one time color, pierced handle at one time, make coordination more enjoyable. Fresh impression leggings is a great textured rose pattern of bright colours, but not too sweet. Fabrics which of the cool crispness of the right during the hot season. Is it feeling a sense of stability, and also rise. West is a flat rubber specifications color scheme. This is when I worry about! Try a fix-cool feet!
---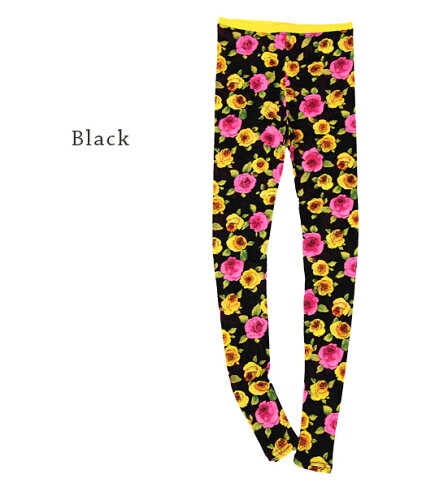 Actual size
Waist: 62-86 cm ( every other dimension-and spread the rubber )
Hip 60 cm for cm, length 94 cm width 16.5 cm
Front rise approx. 25 cm after rise approximately 28 cm inseam approx. 68 cm cuff width 8 cm
* Above sizes are our flat place exact size it is. Is different from the notation size value nude ( JIS standard size ) merchandise tags, etc. Click here for details.
Material
Polyester 95% polyurethane 5%
Washing instructions
Production country
Made in Korea
Lining
Without
Stretch fabric
The stretch a lot
Sheer fabric
Be transparent
Color
Black ( black × pink, yellow, green, etc. )
Off white ( Ivory / coral pink, blue, green, etc. )
Pink ( of red dark pink x, blue-yellow, fluorescent colors such as orange and green )
Green ( Emerald Green x day-glo pink, purple, yellow, grey, etc. )
* ( ) in location x is a color pattern
* In its color, yellow is
Related products
In the suit, there is kids size floral print leggings

Points to note
• This product on health, please try later returns and exchanges cannot accept.
• Our products are mechanical production process on the just "yarn for weaving fabric seam" and somewhat "fray", other fiber "blend", may also cause some "errors" in the shape or size.
• Uses delicate fabrics, hook-nature easily caught and so we pay attention to and rough surface during insertion and removal, the accessories, belt and surrounding walls, such as friction or stutter.
▼ Properties prone to pilling ( hairball ). Please wear where it is and when to remove with scissors.
• There may be taking position of the fabric creates a pattern and nuance slight individual difference, different images and facial expressions.
▼ may shrink slightly by washing or cleaning on the characteristics of the material in the oblique line (State looks twisted the entire product).
▼ Please check also comes with tag described before handling.