May differ from actual colors pictured above wearing a little. Please see the product pictures below color. Also, if you have any concern, please feel free to contact.
Height 157 cm ivory use: check the code
ギザギザチュールミニ skirt spread greatly
Dot tulle skirt came from our original brand Zootie ( ズーティー ) , jagged hem! Tulle lace's big and hearty season we recommend a must-have item. In mix style and yet it 媚びない fan of the ISACA Mania flow!
This time appeared again, in large Pannier to spread the volume is. This Keystone produced by overlaying 2 kind of jagged cut, polka dot and solid color tulle high gathers plenty of line. I don't think three-tiered volume is. Without lining, designed the race directly attached to the body. Because the tulle is attached from the waist area, West around the sukkiri ♪
"I want sweet skirt! "Just from those who" want a cool skirt! ' ' I want a unique skirt! "Just how far. It is recommended, with confidence.
---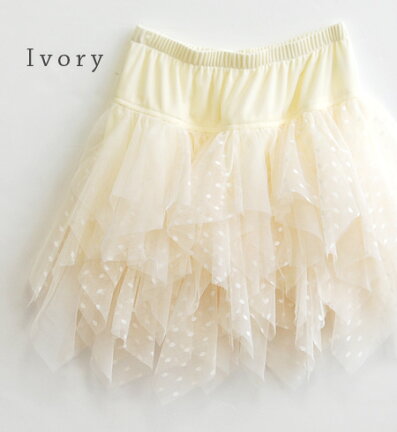 Actual size
Waist 58-84 cm ( with rubber / position sizing-when expanding ) hips 86 cm
Skirt-length tulle section 46 cm skirt length (body) approx. 31 cm
* The size is our open space is the exact size. May differ from the representation of the tags. Click here for details.
Material
100% Polyester
Washing instructions
Production country
Made in Korea
Lining
Without
Stretch fabric
Body: as good as stretch
Tulle piece: do not stretch

Sheer fabric
Almost 透けません ( grayed out there is somewhat sheer )
Color
Ivory ( pale ivory x standard off-white )
Beige ( mixed with mocha dark order of beige × dark order of beige )
Black ( standard black × Black standard )
* ( ) in a body x is the color of the tulle piece

Points to note
▼ so time remains wet for a long time, put in wet friction (friction in particularly wet) and sweat and rain, other clothing to decontamination if you like!
• Turn upside down when your washing, please use a cleaning NET. Avoid wash, press wash. Also, please wash and other things.
• We use the delicate material. Add an intense exercise and super powers, or open seams eyes slippage Please note that when you wear properties (yarn has open slip eye) because we are. Also trap when wearing a belt, buckle and detachable when watches and accessories, etc. by the strength of friction ground such as pay attention please.
• This product is design on the skirt part is bleed specifications. Repeated washing and wear increases cutting surface, the fray. Please wear the points come to mind if you like fraying where it is removed with scissors.
▼ Please check also comes with tag described before handling.