Is now a classic and easy to wear sweat pants
To expand the feeling of relaxation while based on casual, outdoor and marine taste dropped items KRIFF MAYER (Cliff Meyer) The sweat pants. In the West became rib tuck & hem, sharp silhouette clean 着こなせます. The West wide rubber fun Lantern specifications. Back hair part, colours became up to behind the scenes is a cute design. Is ideal for daily comfort and cuteness are item.
---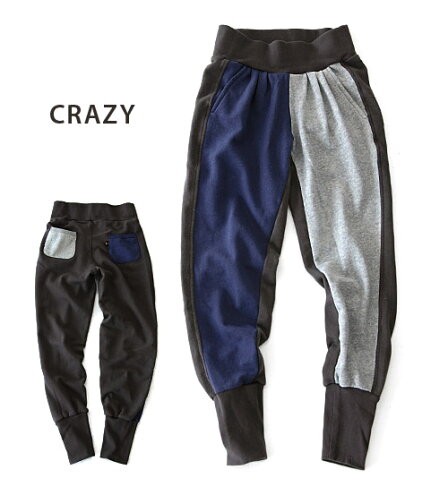 Notation size
"M-size" (one size)
Waist: 64-70 cm
Actual size
Length 95 cm ( out WestLB about 7 cm, hem ribbed about 14 cm )
Waist: 64-82 cm ( position sizing-when expanding / rubberized )
Over the hips about 90 cm width 27 cm front rise approx. 25 cm
After rise approximately 37 cm cm, inseam 73 cm cuff width 18 cm
* The size is our open space is the exact size. May differ from the representation of the tags. For more information of the size Click here From.
Material
Body: 68% cotton 32% polyester
Ribbing: 95% cotton 5% polyurethane
Washing instructions
Production country
Made in China
Lining
Without
Stretch fabric
The stretch a lot
Sheer fabric
Little 透けません
Color
Crazy ( below color used for all )
Navy (Slightly faded Navy)
Charcoal ( チャコールブラウン )
モクグレー (Lighter gray is gray)
* Common, back hair material such as coral, yellow, light blue, Mint is back
Related products
The same colorful back hair material ラグランプル over Also available
KRIFF MAYER ( cliffmeyer ) product list
Points to note
• This product is a special dyeing process, so material twist (diagonal line), the somewhat uneven and color. Please understand that as a characteristic of the material.
▼ remains wet for a long time, put in wet friction (friction in particularly wet) and sweat and rain: and other apparel to decontamination if so please with your mind. Also, please wash and other things.
▼ Properties prone to pilling ( hairball ). Please wear where it is and when to remove with scissors.
• This product, on the characteristics of the material by washing and cleaning slightly shrinks the resulting diagonal line (State looks twisted the entire product).
▼ type could fall apart when hanging in the Sun.
▼ Please check also comes with tag described before handling.