Cool uneven dyeing style print pencil skirt
This year seems to be dry skirt tight silhouette designed by uneven dye wind cool rivet and surge ( rivets and surge ) . Pattern design looks like a dyeing process is actually drawn in print. Along the line of the waist and hips nice mature feminine line is perfect for cool atmosphere:. West is at the front, behind the rubber flat in and the total TAC has received. Is wearing in the waist with belt loops, so the belt color nor cute.
In moderately stretchy fabric reduces the difficulty of movement characteristic of tight skirt.
---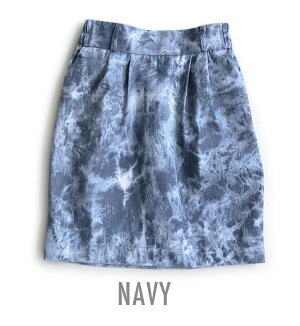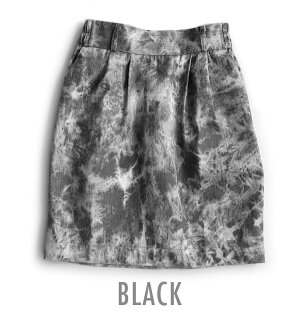 Notation size
"M-size" (one size)
Actual size
Waist: 60-80 cm ( position sizing-when spread with rubber and after only )
Approx. 46 cm, skirt length ( out west approx. 5 cm )
Hips 92 cm hem around 88 cm
* Above sizes are our flat place exact size it is. Is different from the notation size value nude ( JIS standard size ) merchandise tags, etc. Click here for details.
Material
Body: cotton 50% polyester 3% 47% polyurethane
Separate fabric: cotton 100%
Washing instructions
Production country
Made in China
Lining
Without
Stretch fabric
Does not stretch vertically, are a little stretched next to
Sheer fabric
透けません
Color
Navy (Japanese Navy)
Black (Dilute black)
* Overall color uniformity are
Related products
rivet and surge ( rivet & surge ) product list
Points to note
▼ remains wet for a long time, put in wet friction (friction in particularly wet) and sweat and rain: and other apparel to decontamination if so please with your mind. Also, wash may dye when washing to separate other things.
▼ may shrink slightly by washing or cleaning on the characteristics of the material in the oblique line (State looks twisted the entire product) discoloration.
▼ characteristics on the products, the dough taking positions just some individual differences, such as pattern and nuances, different images and facial expressions.
• By repeated washing with water or cleaning, easy to print is not permanent, or more, to be rubbed and dropped somewhat thinner.
▼ Please check also comes with tag described before handling.