Flower bouquet pattern on a polka-dot original shorts
Topped with polka dot and floral pants always quirky, faded into a colorful flower bouquet pattern Zootie ( ズーティー ) The pants. Pattern × is the originality of pattern design.
From the West and put tack and cover the waist and soft. Tailored shorts in unusual deep rise and 穿いたり in high-waisted 穿いたり pants style salad which can be enjoyed. Waist and button closure closure. Walnut Center, designed with the button, also showing トップスイン is cute. Pocket lining color scheme was also fashionable.
Rubber and are put in the back of the waist, it took off was feeling it too! Body with Twill material can be used all year round to stretch slightly.
---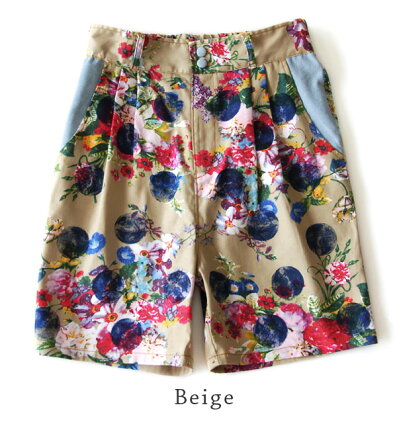 Actual size
Waist: 66-78 cm ( position sizing – when spread with rubber and after only )
Length 47.5 cm ( out west approx. 5 cm ) over hip 96 cm width 28 cm
Front rise approx. 33 cm after rise about 39 cm cm, inseam 14 cm hem width 24.5 cm
* Above sizes are our flat place exact size it is. Is different from the notation size value nude ( JIS standard size ) merchandise tags, etc. For more information of the size Click here I don't like
Material
Body: polyester cotton 63% 2% 35% polyurethane
Separate fabric: 80% cotton 20% polyester
Washing instructions
Production country
Made in China
Lining
Without
Stretch fabric
Do not stretch vertically next to a little stretched
Sheer fabric
About 透けません
Color
Beige ( light yellow beige × thin light blue / Navy )
Sachs ( dull cyan x dull somewhat pale light blue / Navy )
Navy ( Swatch Navy × dark order of the Navy/Black )
* ( ) in a body x is the color of cloth / dot
* Floral print color is common, pink, white, green, yellow, blue, etc.
Related products
Of the same floral print fabric Full length pants Also available

Points to note
▼ remains wet for a long time, put in wet friction (friction in particularly wet) and sweat and rain: and other apparel to decontamination if so please with your mind. Also, wash may dye when washing to separate other things.
▼ may shrink slightly by washing or cleaning on the characteristics of the material in the oblique line (State looks twisted the entire product) discoloration.
• Easier to fall out and print is not permanent, or more, to be rubbed, will be slightly thinner. Enjoy texture of its own products, but may have individual prints tints. Also please avoid ironing to the printed piece.
• Subject characteristics on the products, take position of print and fabric creates a pattern and nuance slight individual difference, different images and facial expressions.
▼ Please check also comes with tag described before handling.