Multi-border and graphical Ortega pattern MIX.
Border pattern of the レトロポップ colours x Ortega's skirt. In the spring and summer design lenght without hesitation in one barefoot on it want to be, such as it is. But big flares and its wide a-line ◎. West's total rubber specifications. Size adjustment for GIMP too longs.
Sheer cotton material body and lining are easy to handle and use the light and cool comfort.
---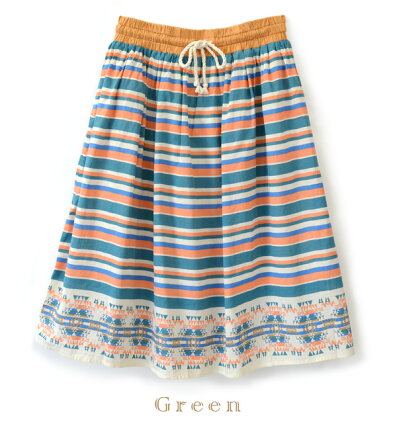 Notation size
"M-size" (one size)
Actual size
Waist: 67-98 cm ( position sizing-when expanding / rubber / laces into )
Approximately 65 cm, skirt length ( out west approx. 5 cm )
Hips 104-118 cm ( position sizing-when expanding )
Lining hip 112 cm lining-length about 49 cm from the West ( )
* Above sizes are our flat place exact size it is. Is different from the notation size value nude ( JIS standard size ) merchandise tags, etc. For more information of the size Click here From.
Material
100% Cotton
Washing instructions
Production country
Made in China
Lining
Plain ivory without luster does not stretch fabric
Stretch fabric
Do not stretch
Sheer fabric
May seem almost 透けません to show through in the light
Color
Green Blue-Green, blue, Orange, beige / light orange-brown
Orange Orange, blue, yellow and dark brown / light orange-brown
Navy (Dark Navy and yellow and red and beige/Navy)
* ( ) color border and West portion is in the
* Is ivory in color and in the common
Points to note
▼ Please enjoy as a unique texture for special product wash, one point per differences such as subtle color, size, texture, discoloration, there is irregularity of print, etc..
▼ remains wet for a long time, put in wet friction (friction in particularly wet) and sweat and rain: and other apparel to decontamination if so please with your mind. Also, wash may dye when washing to separate other things.
▼ may shrink slightly by washing on the characteristics of the material in the oblique line (State looks twisted the entire product).
• There may be taking position of the fabric creates a pattern and nuance slight individual difference, different images and facial expressions. Also does not match the pattern in the seam to necessarily.
• Easier to fall out and print is not permanent, or more, to be rubbed by repeated washing and wearing somewhat thin.
▼ Please check also comes with tag described before handling.