Featured brands for Tokyo Tokyo girl by girl, irony (irony irony). This appeared in saryu Castle pattern fabric made items! Faintly in the trapezoidal silhouette of a flared skirt, waist rubber fun Chin specifications. Rubber parts the color scheme & Ribbon strap size adjustment for gradient became too anyway style. West is showing トップスイン. Material is cotton, lined with easy-to-handle skirt is. A fairy tale world that is am blind to the dress code this item remains that in your clothes, nothing simple cut and sewn together.!
---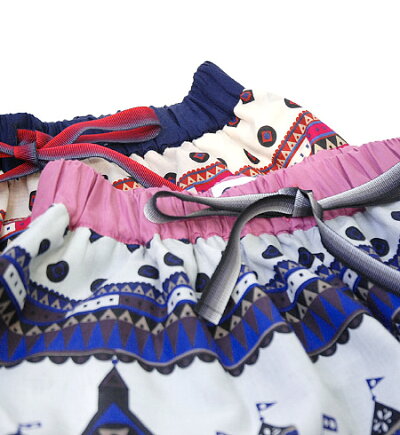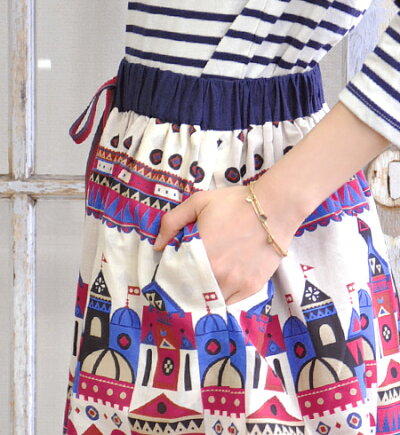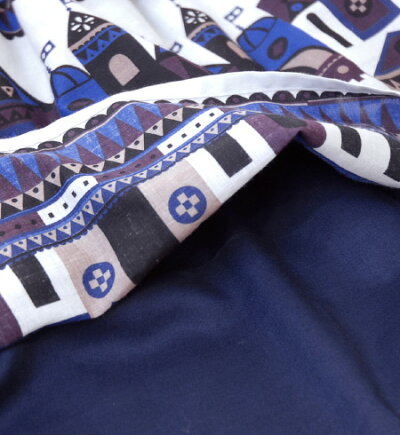 West had passed the upper and flat rubber, let see you passed the regulation for grosgrain Ribbon design with gradient so cute!
On the right and both sides are a convenient Pocket
Became a color scheme from the bottom left and came to uneven hem lining peeks.
Because the right bottom and lining for the fabric of 100% cotton with the same soothing comfort
Actual size
Waist 64-84 cm ( position sizing-when expanding ) skirt length 50 cm
Hips 94-108 cm ( position sizing-when expanding ) lining-length approximately 46 cm from waist ( )
* The size is our open space is the exact size. May differ from the representation of the tags. Click here for details.
Material
100% Cotton
Washing instructions
Production country
Made in Japan
Lining
Cotton 100% (solid color without luster does not stretch dough)
"Lined color."
Ivory / red (dark red with little black)
Grey / Navy (Dark Navy)
Stretch fabric
Do not stretch
Sheer fabric
Little 透けません
Color
Grey / Navy
( with grey white x red / Navy / pink / blue, purple, black and dull )
Ivory / Red
( yellowish ivory x of dark pink, light blue, and black / Navy/white )
* ( ) in a body x is your color pattern / dates / waist belts
* Common in the waist strap of your color is gradient

Points to note
▼ characteristics on the products, the dough taking positions just such attitude of the art and nuance slight individual difference, different images and facial expressions. Also does not match the pattern in the seam to necessarily.
▼ may 100% cotton products will shrink slightly during washing.
▼ remains wet for a long time, put in wet friction (friction in particularly wet) and sweat and rain: and other apparel to decontamination if so please with your mind. Also, please wash and other things.
▼ may cause fading discoloration is absorbed during washing, so quickly, alone, please press wash.
▼ Please check also comes with tag described before handling.