Tropical shine boldly large florals, mini skirt
Perfect for large floral with a resort feel and use of color, but this year seems to be code! is a skirt with plenty of seasonal adult who also has firmly. Born rich flare by using lots of dough and put the box pleats in the front. West and put rubber on the back side only the front is flat, トップスイン is OK. The salary and the sheer rayon material body, slipping good is lined with.
---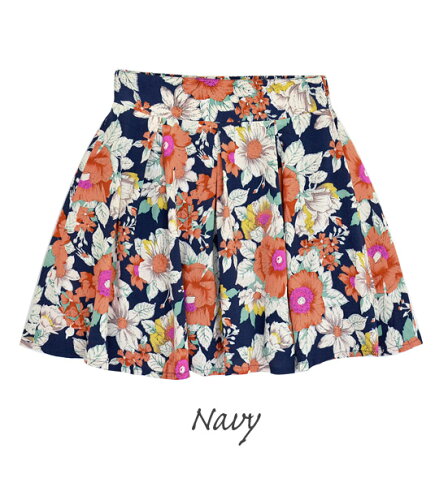 Notation size
"M-size" (one size)
Waist: 64-70 cm 154-162 cm tall
Actual size
Waist: 62-74 cm ( position sizing-when spread with rubber and after only )
About 40 cm, skirt length ( out west approx. 5 cm )
Approximately 120 cm hip lining-length approximately 30 cm from the West under the ( )
* Above sizes are our flat place exact size it is. Is different from the notation size value nude ( JIS standard size ) merchandise tags, etc. Click here for details.
Material
100% Rayon
Washing instructions
Production country
Made in China
Lining
Polyester 100% (solid body with similar colors in glossy to stretch the dough)
Stretch fabric
Do not stretch
Sheer fabric
About 透けません
Color
Navy ( Dark Navy / Orange Mint green ivory grey, etc. )
Red ( red x of violet blue, ivory, pink, green, yellow, etc. )
Mustard ( mustard yellow x dusky pink, green, blue, ivory, etc. )
モカ ( fading x coral pink, Navy Blue, yellow, off-white etc )
* ( ) in a body x is a color print
Points to note
▼ your laundry with dry cleaning please.
▼ remains wet for a long time, put in wet friction (friction in particularly wet) and sweat and rain: and other apparel to decontamination if so please take care.
▼ may shrink slightly by cleaning on the characteristics of the material in the oblique line (State looks twisted the entire product).
▼ Please enjoy as a characteristic of the product characteristics on the products, fabric take position varies 1 point 1 point pattern part there is difference in facial expression,.
▼ Please check also comes with tag described before handling.