Wear comfortable, back brushed simple skirt
Skirt casual road Champion (champion) . Using soft, warm sweat material. In addition to the vineyard intergrated hand decorated ガーメントウォッシュ processing (vintage processing), such as used clothing. Slightly sheer fabric feeling, so wear light lights. In addition to the flat rubber waist and provides built-in size adjustment for string.
Trade mark into the Championship tradition at waist position. Hem of the bleed is a fashionable point in the rough.
---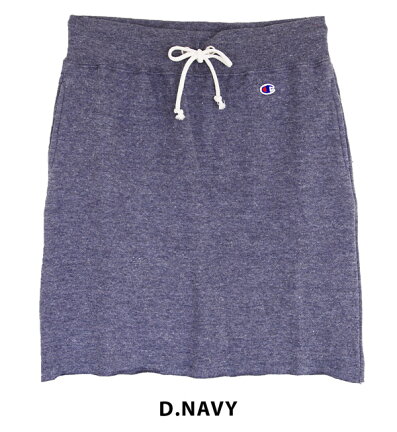 Notation size
S M women 's"waist 64-70 cm
S L women 's"waist: 69-77 cm
Actual size
S M size.
Total length approx. 51 cm waist: 72-90 cm around the hem 96 cm
S L size?
Total length approx. 52 cm waist: 75-92 cm hem around 102 cm
* West is in rubber and laces with the every other dimension-is the size of spread.
* Above sizes are our flat place exact size it is. Is different from the notation size value nude ( JIS standard size ) merchandise tags, etc. Click here for details.
Material
Body: 80% cotton 20% Acrylic
Ribbing: 65% cotton 35% acrylic
Washing instructions
Production country
Made in China
Lining
Without
Stretch fabric
The stretch a lot
Sheer fabric
Little 透けません
Color
Dark Navy (A moderate White Navy)
Charcoal ( a moderate dark because of the gray )
Medium grey (Thin gray is gray)

Related products
CHAMPION (champion ) item list
Points to note
• This product is design on the skirt part is locked up. You may come apart with repeated washing and wearing. Please wear the points come to mind if you like fraying where it is removed with scissors.
▼ Please enjoy as a unique texture for washing the product, and subtle color, size and texture differences between one point each but.
▼ Properties prone to pilling ( hairball ). Please wear where it is and when to remove with scissors.
• Hook, please note so easy catching nature and friction and rough surface, such as during insertion and removal, the accessories, belt and surrounding wall and caught.
▼ Please alone wash on the properties of materials, dyes for some there. Also, soaked in water for a long time put please avoid that.
▼ may shrink slightly by washing on the characteristics of the material in the oblique line (State looks twisted the entire product).
• Avoid ironing to the embroidery, print.
▼ Please check also comes with tag described before handling.