Unflinching detail of delicate panties shine,
Using the floral fabric to stretch our original brand Zootie ( ズーティー )ツイルレギンス. Decorate a West total its specifications put buttons & fake ジップフライステッチ are. Fits hem, no sluggish extra skinny silhouette. Organizers also combined tunic and dress code.
Stretch Twill material foot to plenty of stretch to the next bend or stretch fabrics are also easy:. I enjoy flower bouquet pattern of very adult-like atmosphere so nothing more than casual pattern パンツコーデ.
---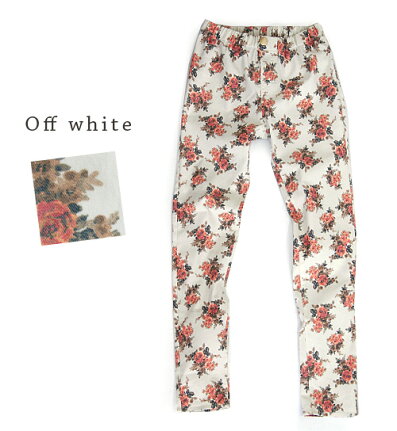 Notation size
"M-size" (one size)
Actual size
Waist: 64-90 cm ( position sizing-when expanding / rubberized )
Cm, length 94 cm ( out west approx. 3 cm ) hips 92 cm
Wadding cm 26.5 cm front rise approx. 23 cm after rise about 33 cm
Cm, inseam 72 cm hem width 13.5 cm
* The size is our open space is the exact size. May differ from the representation of the tags. Click here for details.
Material
Cotton 70% polyester 2% 28% polyurethane
Washing instructions
Production country
Made in China
Lining
Without
Stretch fabric
Next to good stretches do not stretch a little vertical
Sheer fabric
Ivory: slightly sheer so that inner combination recommended the
Other: little 透けません
In the transparent measures. Choose length and shape インナーペチ pants
Color
Off white ( dull ivory x Orange, red, light brown, black, etc. )
Pink beige ( dusky pink beige × pale red, beige, green, etc. )
Navy ( close to the gray drab Navy x, pale pink, beige, light green etc. )
* ( ) in a body x is a color print
Related products
There is the same dough tapered pants

Points to note
▼ remains wet for a long time, put in wet friction (friction in particularly wet) and sweat and rain: and other apparel to decontamination if so please with your mind. Also, wash may dye when washing to separate other things.
▼ may shrink slightly by washing or cleaning on the characteristics of the material in the oblique line (State looks twisted the entire product) discoloration.
• Easier to fall out and print is not permanent, or more, to be rubbed, also repeat the washing and cleaning by slightly thinner. Also please avoid ironing to the printed piece.
• Subject characteristics on the products, take position of print and fabric creates a pattern and nuance slight individual difference, different images and facial expressions.
▼ Please check also comes with tag described before handling.