It's moist texture and rich flare skirt
Flare peachskin classy texture and Hillary and rich in features w closet ( ダブルクローゼット ) The skirt. It is near the circular skirt with plenty of fabric items. West has put rubber in flat, behind. With the stretchy lining of my footwork too nimble!
---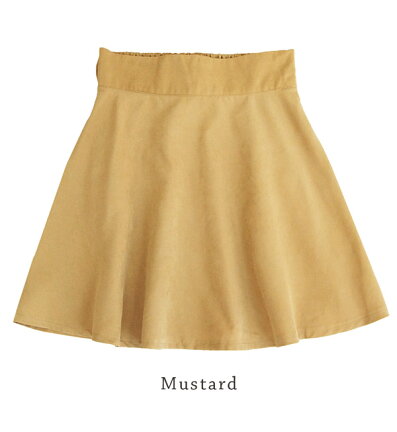 Notation size
S F size"(one size)

Actual size
Approx. 48 cm, skirt length ( out of its width 6.5 cm )
Waist: 60-84 cm ( position sizing-when expanding and behind only rubber pieces )
Approx. 122 cm hips lining-length about 35.5 cm from the West under the ( )
* Above sizes are our flat place exact size it is. Is different from the notation size value nude ( JIS standard size ) merchandise tags, etc. For more information of the size Click here From.
Material
Nylon 70% polyester 30%
Washing instructions
Production country
Made in China
Lining
Polyester 100% (to stretch horizontally a little plain body with similar colors, shiny materials)
Stretch fabric
Do not stretch
Sheer fabric
Little 透けません
Related products
( ダブルクローゼット ) w closet product list
Color
Mustard (A little thin for mustard)
Dark orange (Lighter Brown with orange)
Blue (Took the dull white thin Navy Blue)

Points to note
• This product is used very delicate material. Join the vigorous and strong force and open seams, eyes slippage has to nature (weaving yarn open slip eye). Trap when wearing a belt, buckle and detachable watches, rings, etc. by the frictional strength of ground such as 10 minutes please be careful.
▼ remains wet for a long time, put in wet friction (friction in particularly wet) and sweat and rain: and other apparel to decontamination if so please with your mind.
• Please keep this material or contracts in the water, and sometimes prone to wrinkles, so airy, non-humid place.
• Sunlight for a long time in direct sunlight.
▼ Please check also comes with tag described before handling.