May differ from actual colors pictured above wearing a little. Please see the product pictures below color. Also, if you have any concern, please feel free to contact.
Height 157 cm Sachs use: check the code
4.5. 5.5 Oz., re-appearance!
w closet ( ダブルクローゼット )デニムマキシ skirt, 5.5-ounce denim Ver's... in is a re-appearance!
Very easy dough feeling and show their soft movements, ◎. The silhouette of A hearty spread toward the hem line is a feminine impression. West is a flat rubber with rib specification. The hem and ロックステッチ settlement, informal atmosphere such as bleed.
---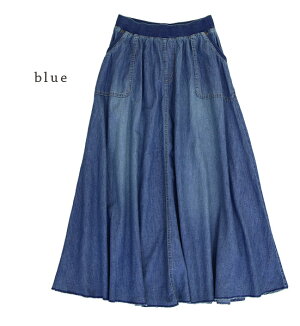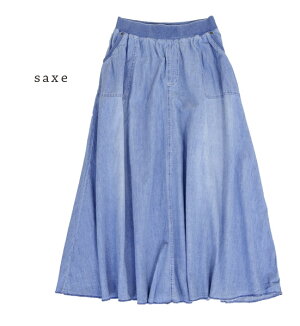 Notation size
"One size fits all."
Actual size
Waist: 66-82 cm ( position sizing-when expanding / rubber / laces into )
Approx. 91 cm, skirt length ( out west approx. 4.5 cm ) hip 110 cm
* The size is our open space is the exact size. May differ from the representation of the tags. Click here for details.
Material
Body: 100% cotton
Rib: 95% cotton 5% polyurethane
Washing instructions
Production country
Made in China
Lining
Without
Stretch fabric
Do not stretch
Sheer fabric
About 透けません
Color
Blue (The thin blue that dullness)
Sachs (A bleach light blue)

Related products
( ダブルクローゼット ) w closet product list
Points to note
• This product is design on the skirt part is locked up. You may come apart with repeated washing and wearing. Please wear the points come to mind if you like fraying where it is removed with scissors.
▼ seperately so you lose the color, other, wash with washing machine.
• This product is Indigo. Natural texture will wash and each to enjoy distinctive color variation. Also has a special process for producing a unique, product is little point by point look different. Enjoy as a product unique texture.
▼ remains wet for a long time, put in wet friction (friction in particularly wet) and sweat and rain: and other apparel to decontamination if so please with your mind
▼ may shrink slightly by washing on the characteristics of the material in the oblique line (State looks twisted the entire product).
▼ Please check also comes with tag described before handling.