Look fabulous and feminine. Large floral cocoon skirt
Large antique floral skirts an impressive. Feminine compact because a is a slightly rounded cocoon silhouette is sizing, West into tuck. Since behind the side of the West is a rubber with excellent ease of it also. Specification flat is at the front, so to トップスイン also 着こなせます in style.
Fabric's weave feeling like a canvas material and solid sense of the butcher material. Are complemented by soft thick solid, comfortable wear.
---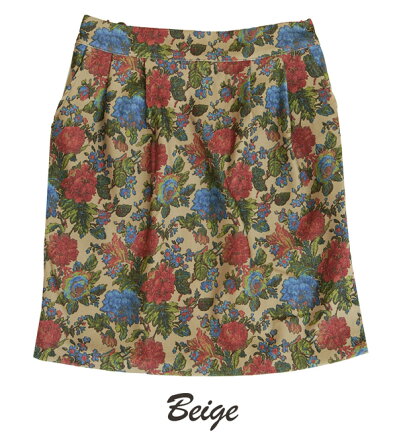 Notation size
"M-size" (one size)
Waist: 64-70 cm
Actual size
Waist: 63-90 cm ( position sizing-when spread with rubber and after only )
Skirt length 44 cm hip 88 cm hem around 94 cm
* Above sizes are our flat place exact size it is. Is different from the notation size value nude ( JIS standard size ) merchandise tags, etc. Click here for details.
Material
Polyester 3% 97% polyurethane
Washing instructions
Production country
Made in China
Lining
Without
Stretch fabric
Do not stretch
Sheer fabric
透けません
Color
Beige ( Dark because of yellow beige × dull red, blue, yellow, green, etc. )
Black ( Black x red, yellow-green, beige, green, etc )
Navy ( slightly bluish Navy × brownish-red, blue, green, etc. )
* ( ) in location x is a color print
Related products
There is the same floral fabric flare skirt
Points to note
▼ remains wet for a long time, put in wet friction (friction in particularly wet) and sweat and rain: and other apparel to decontamination if so please take care.
▼ may shrink slightly by cleaning on the characteristics of the material in the oblique line (State looks twisted the entire product).
• There may be characteristics on the products, take position of the fabric creates a pattern and nuance slight individual difference, different images and facial expressions.
▼ Please check also comes with tag described before handling.