Painted birds pattern leggings
Reminiscent of the sky, a unique bird patterns leggings. Use the slightly shiny polyurethane mix cotton twill material. Deep rise completely ass wrapped, it feel a sense of relief, West was completely rubber specifications. Excellent elastic movement and ease of use is the one thing of fascination and even stretch bending of the knees. Fake ジップフライステッチ with in the front. Back pocket is real, but both side pocket is a fake. Ankle and secure fit, grant us a beautiful skinny silhouette.
---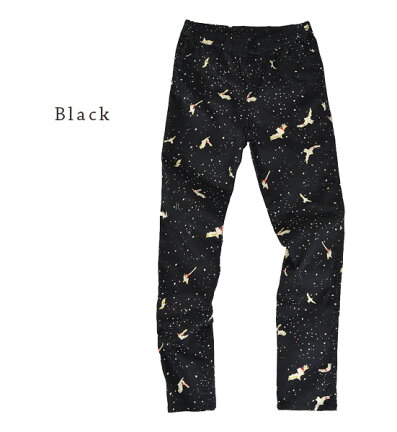 Notation size
"M-size" (one size)
Waist: 64-70 cm
Actual size
Waist: 64-82 cm ( position sizing-when expanding / rubberized )
Length 93 cm ( out west approx. 3.5 cm ) hip 80 cm
Wadding width 23.5 cm front rise approx. 25 cm after rise 30 cm
Cm, inseam 71 cm hem width 13.5 cm
* Above sizes are our flat place exact size it is. Is different from the notation size value nude ( JIS standard size ) merchandise tags, etc. Click here for details.
Material
97% Cotton 3% polyurethane
Washing instructions
Production country
Made in China
Lining
Without
Stretch fabric
Next to the well stretched not stretched vertically
Sheer fabric
About 透けません
Color
Black ( Black standard x, ivory, pink, mustard etc )
Light red ( spiders density was red x beige, blue, and yellow, etc. )
Off white ( Ivory beige old x black, pink, lime, etc. )
* ( ) in a body x is a color pattern
Related products
Different patternsフラワーペイズリーツイルレギンス,
The same silhouette Noby leggings pants series
* Please check varies according to product specification of the West because there are slight differences to comfort it, etc..
Points to note
▼, because we have to wash the product after the sewing, this product is slightly distorted as products of distinctive enjoy wearing every wrinkle, Atari etc are found subtle colors blur or Fuzz, etc.,.
▼ remains wet for a long time, put in wet friction (friction in particularly wet) and sweat and rain: and other apparel to decontamination if so please with your mind. Also, please wash and other things.
• This product, on the characteristics of the material by washing and cleaning slightly shrinks the resulting diagonal line (State looks twisted the entire product).
▼ characteristics on the products, the dough taking positions just some individual differences, such as pattern and nuances, different images and facial expressions.
▼ Please check also comes with tag described before handling.