After all, it checked pleated skirt
Georgette cool! and while retaining the texture almost! lump checked pleated skirt finished with a warm brushed fabric. Is the item still in autumn and winter it want to be. Pleated detail will sway lightly. West has switched in the suede fabric, decorative belts on both sides. Looks too cute!:. Back side is rubber specifications so wear fun Chin it is ♪ is lined with the foot footwork is light.
---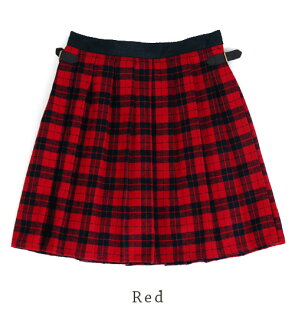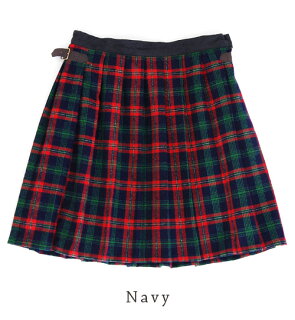 Notation size
"M-size" (one size)
Waist: 64-70 cm
Actual size
Waist 64-76 cm ( position sizing – when spread with rubber and after only )
Approx. 46 cm, skirt length ( out west approx. 3 cm ) hip 106 cm
Lining-length approximately 37 cm from waist ( )
* The size is our open space is the exact size. May differ from the representation of the tags. Click here for details.
Material
Body: polyester 65% rayon 35%
Separate waist fabric: 100% polyester
The belt part: synthetic leather
Washing instructions
Production country
Made in China
Lining
Body lining: 100% polyester
"Lined color."
Red: dark brown
Navy: Navy
Inside another fabric waist: polyester 80% cotton 20%
Stretch fabric
Do not stretch
Sheer fabric
透けません
Color
Red ( bright red × black )
Navy ( Dark order of the Navy × green x Red )
* ( ) body check scheme is in
* Common in the belt color is a dark brown
Points to note
▼ your laundry with dry cleaning please.
• This product is a pleated products. This pleated is not permanent, and pleated loss due to wear and cleaning. Also enjoy this product features a subtly different texture point by point, etc..
▼ remains wet for a long time, put in wet friction (friction in particularly wet) and sweat and rain: and other apparel to decontamination if so please take care.
▼ uses delicate fabrics, hook, please note so easy catching nature and friction and rough surface, such as during insertion and removal, the accessories, belt and surrounding wall and caught.
▼ Please note may run closer together so we brushed the surface of flame and fire, so stay away from the flames of gas ranges and writer.
▼ characteristics on the products, the dough taking positions just some individual differences, such as pattern and nuances, different images and facial expressions. Also does not match the pattern in the seam to necessarily.
▼ Please check also comes with tag described before handling.