I also shot-gun remove useful pettanko plum skirt
Peplum 外せない the season with plenty of trendy hard Leopard in. This is in one season fad cheats!
Elegant peach skin fabric waist with flare fluttering, skirt. Ornament sweetly fluttering around the waist, will cover the body in style. Woman became faint cocoon silhouette line skirts the body. Tuck into the front, has produced good rounded and three-dimensional. Flare and skirts with the unit, so is possible to change the code.
Both waist is only behind rubber, because the front is flat to トップスイン ◎.
---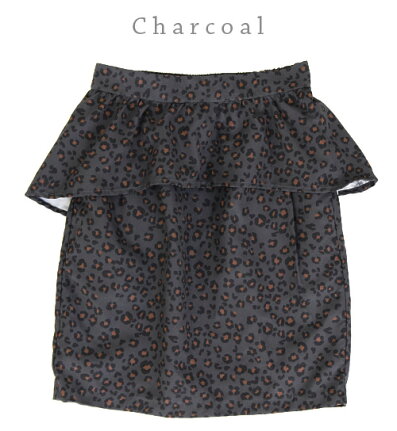 Notation size
"M-size" (one size)
Waist: 64-70 cm
Actual size
"Body."
Waist: 61-80 cm, skirt length 44 cm hip 94 cm
Lining-length about 36 cm from the West ( ) hem around 85 cm
"Peplum.
Waist: 61-80 cm, skirt length is 15-23 cm ( minimum-maximum )
* The size is our open space is the exact size. May differ from the representation of the tags. For more information of the size Click here From.
Material
Body: polyester 92% nylon 8%
Different fabrics: polyester 80% cotton 20%
Washing instructions
Production country
Made in China
Lining
100% Polyester
Stretch fabric
Do not stretch
Sheer fabric
透けません
Color
Charcoal ( unevenness charcoal x black / dark beige )
Yellow beige ( strong dark yellowish beige × charcoal cream )
Smokey pink ( dusky pale pink x charcoal and cream colors dull )

Points to note
▼ your laundry with dry cleaning please.
• This product is used very delicate material. Join the vigorous and strong force and open seams, eyes slippage has to nature (weaving yarn open slip eye). Trap when wearing a belt, buckle and detachable watches, rings, etc. by the frictional strength of ground please click on you like such as.
▼ remains wet for a long time, put in wet friction (friction in particularly wet) and sweat and rain: and other apparel to decontamination if so please with your mind.
▼ characteristics on the products, the dough taking positions just some individual differences, such as pattern and nuances, different images and facial expressions. Also does not match the pattern in the seam to necessarily.
▼ Please check also comes with tag described before handling.