Scarf skirt you like!
Skirt scarf-like, Lady, classic fabrics in all aspects. Coordination and the usual skirt, a little different atmosphere is enjoyed ♪ West front is flat, the back side with rubber fun Lantern specifications. Skirt piece with plenty of dough is 波打ちます to luxury was put from the West the folds. Further, are available in the Ribbon of the same fabric belt with belt loops around the waist decorate to impressive.
---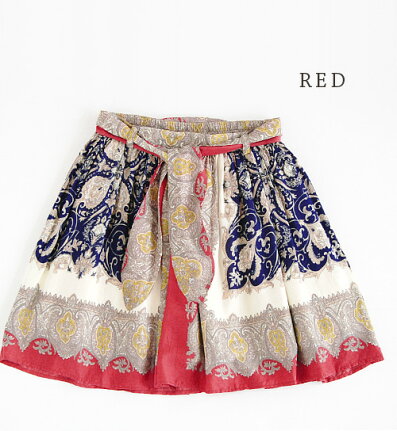 Notation size
"M-size" (one size)
Waist: 64-70 cm
Actual size
Waist 62-78 cm, skirt length is approximately 43 cm ( out west approx. 3 cm )
Hip 90-136 cm ( position sizing-when expanding ) lining-length about 35 cm from the West ( )
S comes with Ribbon."overall length 130 cm width 7 cm
* The size is our open space is the exact size. May differ from the representation of the tags. For more information of the size Click here From.
Material
100% Rayon
Washing instructions
Production country
Made in China
Lining
100% Polyester
(Light beige plain without luster does not stretch material)
Stretch fabric
Do not stretch
Sheer fabric
Little 透けません
Color
Red
( settled slightly including the white-yellowish leaning red, Navy and fading, yellow, etc. )
Navy
(I wanted a standard Navy and white, dark red, fading, beige, yellow etc)
Green
(-soothing dark green and dark orange, pale pink grey, grey, light green etc. )
* ( ) in the colors used in the pattern of the body is
* The ground color is ivory tinged with light yellow in common

Points to note
▼ your laundry with dry cleaning please.
▼ characteristics on the products, the dough taking positions just some individual differences, such as pattern and nuances, different images and facial expressions. Also does not match the pattern in the seam to necessarily.
▼ You may shrink due to weak to water or moisture, dyed into other things that fade. Also, please note may be discolored by ultraviolet rays.
▼ do not focus directly on iron and steam ironing use. Cloth, let the iron from the back.
▼ uses delicate fabrics, hook, please note so easy catching nature and friction and rough surface, such as during insertion and removal, the accessories, belt and surrounding wall and caught.
▼ Please check also comes with tag described before handling.