Ethnic fabrics, and colors the border pattern pants
Border culotte pants of fabric, colours with plenty of ethnic feeling. Is easy to coordinate the colorful design high-impact, but the thick stripes so safe! you gradation Jan, expressive color as fabric is born. Mens like a loose-fitting silhouette, so leg looks refreshing slimming effect!
Waist plus rubber specifications, with ornament veltrop. Because the front belt loops is installed under the somewhat from the tops show nice rope.
---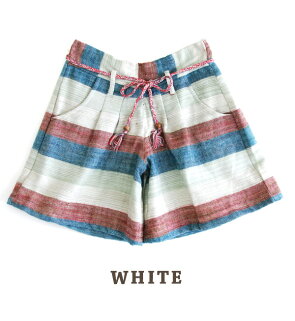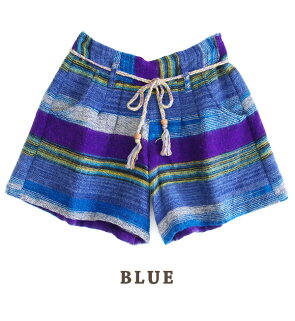 Actual size
Waist: 68-86 cm (position sizing-when spread with rubber and later only)
Length 41 cm (out of West approx. 6 cm) over the hip 118 cm width 38 cm
Front rise approx. 27 cm after rise approximately 31 cm inseam approx. 17 cm hem width 42 cm
* The size is our open space is the exact size. May differ from the representation of the tags. For more information of the sizeClick hereFrom.
Material
100% Acrylic
Washing instructions
Production country
Made in India
Lining
Without
Stretch fabric
Do not stretch
Sheer fabric
About 透kemasenn
Color
White(Dark because of ivory and very pale green, blue green, red tea, etc.)
Blue(Dark order of purple, light blue, Navy Blue, blue, yellow, ivory, etc.)
※ () In is the color of the border.
Points to note
▼ This product we are using fabric made in India. Weave dyed scratches, and there might be uneven. Enjoy also the manual for the size there is a slight variation, as one key product feature each piece different texture.
• Washing time, slight discolorations so other seperately, Please launder. Also, please note that due to the nature of the material, appears somewhat shrink by washing. Ask from us once you wash your.
Down: so when you put it over with wet, wet friction (friction in particularly damp State), sweat and rain, other clothing to decontamination if you please.
▼ Properties prone to pilling (hairball). Please wear where it is and when to remove with scissors.
▼ uses delicate fabrics, hook, please note so easy catching nature and friction and rough surface, such as during insertion and removal, the accessories, belt and surrounding wall and caught.
• Subject characteristics on the products, the dough taking positions just some individual differences nuances and attitude of the size, design, different images and facial expressions.
▼ Please check also comes with tag described before handling.