Miho was possible representative, knit shorts!
Tickle the playful fun products that brand Cheer ( cheer ) In short pants. Cute reindeer are drawn, loosely woven from thick yarn, cheek was lump is a lot of items. Cute pockets depicting snow crystals in the ass?!
Without a lining of 100% knit shorts so fluffy and ですぎず volume, cover the belly, butt and rise on the ground. And put through the waist string of yarn in the West, narrow size with this string. Longer strings are in the central large Ribbon, will become a cute accent sounds.
---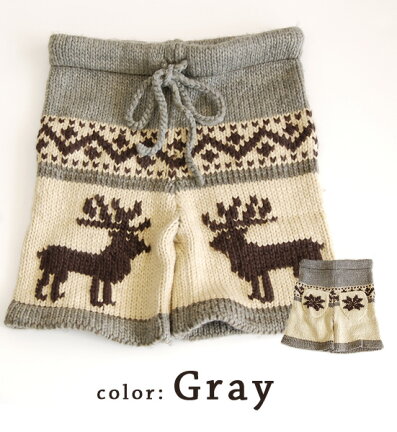 Actual size
Waist: 78 cm length 44 cm ( out west approx. 4 cm ) hips 86 cm
Wadding cm 25 cm front rise approx. 31 cm after crotch 33 cm inseam approx. 16 cm hem width 28 cm
* Knit material for large individual differences may occur. Notation size should be considered approximate.
* The size is our open space is the exact size. May differ from the representation of the tags. For more information of the size Click here From.
Material
100% Acrylic
Washing instructions
Production country
Made in China
Lining
Without
Stretch fabric
The stretch a lot
Sheer fabric
See-through from the stitch
Color
Gray
( grey / beige old ivory / Brown / gray × モカグレー )
Mocha
( Mocha Mocha brown/black/grey/brown / charcoal gray )
Pink
( Dark Navy / deep magenta / green subdued Dark Navy × fading )
* ( ) body and West parts and pattern parts area / pattern / hem line color is in the
Related products
In the matching of the reindeer pattern Knit vest
Points to note
• Knit nature, just "thread seams" and somewhat "fray", also in shapes and sizes prone individual product is. As you can understand thank you.
• Materials, please note that fiber on the trap-prone, so wear and removal when the fold on watches & accessories-belts, etc..
▼ Please note because if you sweat or rain-wet friction causes a color transfer to other things. ▼ may shrink slightly by washing or cleaning on the characteristics of the material, oblique line (State looks twisted the entire product), discoloration may occur.
▼ salmon rub and rinse when you hand wash, cold water wash with you please.
▼ Properties prone to pilling ( hairball ). Please wear where it is and when to remove with scissors.
▼ Please check also comes with tag described before handling.