Neck detail fabric sense expressive of punchy V kade
Brand FOUND GARMENTS ( ファウンドガーメンツ ) to suggest Daly, ageless clothes stuck to the material, detail, silhouette Cardigan. Use the fabric stand out that Marbury tenjiku "moku" pattern. And woven from sweet, light soft and to stretch. Twist neckline and placket はくしゅ boobs and rich look. On left chest pocket with small pockets on the inside and inside the installed Pocket on left chest. Vintage stitch sleeves, side out on purpose and leave the seam sinks in hem-side are Shotoku. By adding the HINARI used for inclined shaft in body drape in distinctive colours and designed be a rough silhouette. Shells are one of the accent. It is fashionable long-neck tag.
---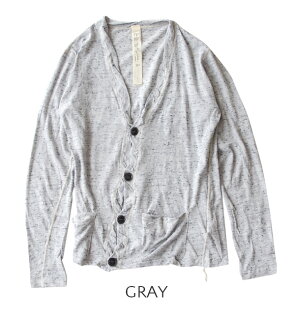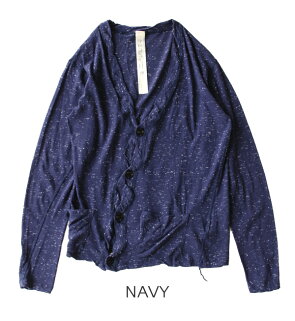 Notation size
"M-size" (one size)
Actual size
Bust 94 cm, shoulder width 42 cm cm, length 59 cm cm, sleeve length 61 cm sleeve length 82 cm.
Armholes about 42 cm sleeve 20 cm around the hem approx. 98 cm
17 Cm low-cut neckline depth 26 cm
* Above sizes are our flat place exact size it is. Is different from the notation size value nude ( JIS standard size ) merchandise tags, etc. Click here for details.
Material
100% Cotton
Washing instructions
Production country
Made in Japan
Lining
Without
Stretch fabric
The stretch a lot
Sheer fabric
Slightly sheer so that inner combination recommended the
Color
Gray (Light grey lighter that NEP for black and white)
Navy (Navy of NEP of the white and blue)

Related products
Same material short sleeve T shirts &7-sleeves T shirt also.
Points to note
▼ looks like in the expression entered the NEP fabric pilling ( hairball ), prone to pilling ( hairball ) characteristics. Please wear where it is and when to remove with scissors.
• Hook, please note so easy catching nature and friction and rough surface, such as during insertion and removal, the accessories, belt and surrounding wall and caught.
▼ remains wet for a long time, put in wet friction (friction in particularly wet) and sweat and rain: and other apparel to decontamination if so please with your mind. Also, wash may dye when washing to separate other things.
▼ may shrink slightly by washing or cleaning on the characteristics of the material in the oblique line (State looks twisted the entire product) discoloration.
▼ Please check also comes with tag described before handling.