Decorate the shoulder lace, loose knit deformation spring
Photono over, because of the race along the arm from the shoulder. Our original brand Zootie ( ズーティー ) Than is now available. モモンガスリーブ design without switching shoulders relaxed silhouette, cuff taken longer to crisp. Easy length adjustment with rib hem width and covers the body line and the fit though:. ユルめ silhouette and sweet color development and material, and the girls are to explore the mood I'm ♪ is a sheer, soft ライトニット perfect for early spring.
---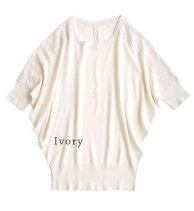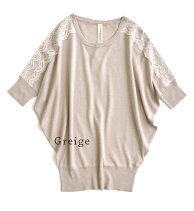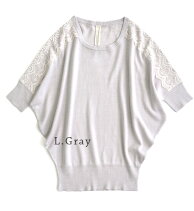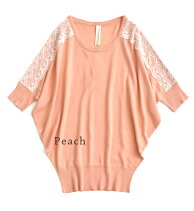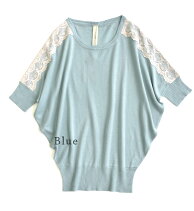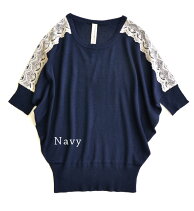 Notation size
"M-size" (one size)
79 – 87 Cm bust 154-162 cm tall
Actual size
Girth about 152 cm cm, length 71 cm (measured from shoulder) sleeve length approx. 55 cm sleeve 20 cm
West approx. 132 cm hem around 68 cm 22 cm low-cut neckline depth is approximately 13 cm
* This item is not switching shoulder Dolman sleeve design for the size of the shoulders, sleeves, armholes transcribed.
* Knit to size slight individual difference arises. Notation size should be considered approximate.
* The size is our open space is the exact size. May differ from the representation of the tags. For more information of the size Click here From.
Material
Body: acrylic 52% cotton 48%
Racing parts: 80% cotton 20% nylon
Washing instructions
Production country
Made in China
Lining
Without
Stretch fabric
The stretch a lot
Sheer fabric
Inner is required because the see-through from the stitch
Color
Ivory ( Dark because of ivory )
Grey beige (Thin beige some shade of gray)
Light gray Light (light gray)
Peach (With white coral orange)
Blue Mint ( dull blue )
Navy (A standard Navy)
* Lace color is common, almost off-white pale-pink
Points to note
• Knit nature, just "thread seams" and somewhat "fray", also in shapes and sizes prone individual product is. As you can understand thank you.
• Hook, please note so easy catching nature and friction and rough surface, such as during insertion and removal, the accessories, belt and surrounding wall and caught.
▼ Properties prone to pilling ( hairball ). Please wear where it is and when to remove with scissors.
▼ remains wet for a long time, put in wet friction (friction in particularly wet) and sweat and rain: and other apparel to decontamination if so please with your mind. Also, please wash the infection when washing you may share and other things.
▼ may shrink slightly by washing or cleaning on the characteristics of the material in the oblique line (State looks twisted the entire product).
▼ Please check also comes with tag described before handling.