May differ from actual colors pictured above wearing a little. Please see the product pictures below color. Also, if you have any concern, please feel free to contact.
Height 156 cm Navy use: check the code
Stylish retro color シルエットワンピ
One piece using Terron and retro print fabric and smooth. Highlights and volume down, arranges inner cuffs. Effect of arms seem slim ♪ just bodice is a loose cocoon silhouette, overall just a drab silhouettes, in one piece and wear fashionable looks. At the party a little sparkly accessories and good chemistry, so is recommended.
---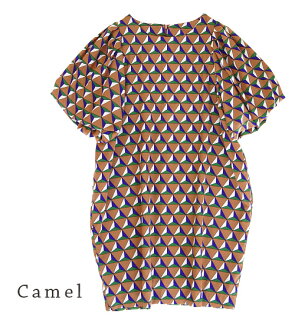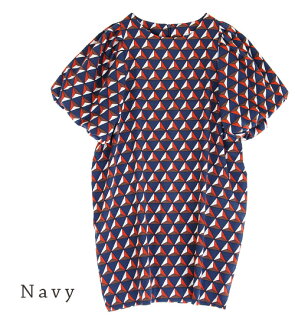 Actual size
Bust 98 cm, shoulder width 29 cm cm, length 84 cm sleeve length approximately 30 cm sleeve length 44.5 cm's
Armhole 56 cm 36-52 cm cuff (cuff-puff sleeve)
Approx. 112 cm waist hip 110 cm lining-length about 78 cm from the shoulder ( )
21.5 Cm low-cut neckline depth 8 cm
* The size is our open space is the exact size. May differ from the representation of the tags. Click here for details.
Material
100% Polyester
Washing instructions
Production country
Made in Korea
Lining
100% Polyester
"Lined color."
Camel ( does not stretch shiny ochre )
Navy (shiny does not stretch faded Navy)
Stretch fabric
Do not stretch
Sheer fabric
透けません
Color
Camel ( than faded ochre beige x off white x blue-violet × green pattern )
Navy ( Navy Blue faded x off white x Brown x red handle )

Points to note
▼ your laundry with dry cleaning please.
▼ so time remains wet for a long time, put in wet friction (friction in particularly wet) and sweat and rain, other clothing to decontamination if you like!
▼ characteristics on the products, the dough taking positions just such attitude of the art and nuance slight individual difference, different images and facial expressions. Also does not match the pattern in the seam to necessarily.
▼ Please check also comes with tag described before handling.