A unique with plenty of trendy Dolman tee
Different material substitution in the 'bicolor'. Based on trend two major awards, loose our original brand Zootie ( ズーティー ) wide deformation shirt. Without switching shoulder Dolman sleeve design over your money under the table, from the side of the bodice is sewn material. Also it sees smart Visual effects:. Fashionable colours one presence is superb. Even fashionable feeling up in the corner wrapped Kong and stand collar. Can be rolled up in the sleeve buttons and tabs are attached.
---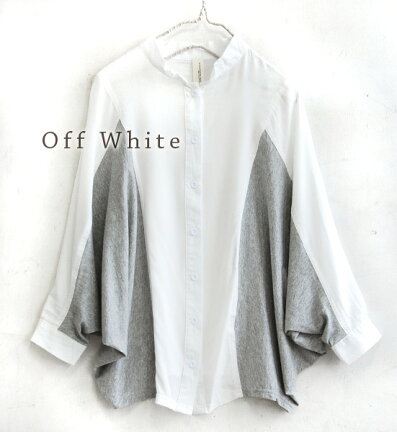 Actual size
Length approx. 58-63 cm ( after-before ) sleeve length 43-63 cm ( during roll up-when extended )
Sleeve 21 cm around the hem 86 cm 20 cm low-cut-cut deep, about 2 cm
* This item is not represented is the size of the shoulders, chest, cm, sleeve length, armholes, West tailoring on the switch of the shoulder is not deformation design for the.
* The size is our open space is the exact size. May differ from the representation of the tags. Click here for details.
Material
Rayon 85% Polyester 15%
Washing instructions
Production country
Made in China
Lining
Without
Stretch fabric
Fabric parts: do not stretch
Sewn parts: stretches well
Sheer fabric
May somewhat transparent ( is light-colored inner is required because be transparent especially )
Color
Off white (Off white standard)
Pink (The thin pink Beige)
Blue (Somewhat dull light blue)
"Common" sewn part is grey is moderate

Points to note
▼ may be discolored because of the other seperately, please wash.
▼ so time remains wet for a long time, put in wet friction (friction in particularly wet) and sweat and rain, other clothing to decontamination if you like!
▼ may shrink slightly by washing or cleaning on the characteristics of the material in the oblique line (State looks twisted the entire product).
▼ Please check also comes with tag described before handling.