Funny Cool! レーススカル T shirt
Decorate the front lace, our original brand Zootie ( ズーティー ) ladies T shirt. That was... But... And look carefully. I'm lace became a skeleton face design. Tulle lace color is different from the body upon the embroidery on painted face. Even though a hard sense of humor somewhere, individuality is one piece. T shirt body is cut and sewn fabric of sheer soft and fluffy. Is a gentle material NEP is seen in some places. Congratulations relaxed silhouette, will be wearing.
---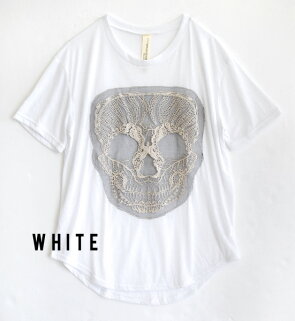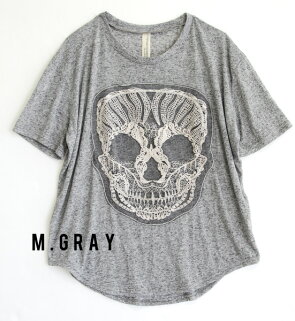 Actual size
Ringtones shoulder 47 cm bust 110 cm length 60-72 cm sleeve length 19 cm
Sleeve length approx. 42.5 cm arm holes about 38 cm sleeve 32 cm
West 100 meters around the hem approx. 102 cm 18 cm low-cut neckline depth 10 cm
* The size is our open space is the exact size. May differ from the representation of the tags. Click here for details.
Material
Polyester 85% hemp 15%
Washing instructions
Production country
Made in Korea
Lining
Without
Stretch fabric
The stretched nicely
Sheer fabric
Slightly see-through
* Dimmed are see-through, so inner required
Color
White (white standard)
モクグレー ( entered the black spots are light モクグレー )
* Common in the tulle part of the Central design is a standard black, lace off-white
Points to note
▼ remains wet for a long time, put in wet friction (friction in particularly wet) and sweat and rain: and other apparel to decontamination if so please with your mind. Also, please wash and other things.
• This product, on the characteristics of the material by washing and cleaning slightly shrinks the resulting diagonal line (State looks twisted the entire product).
• Trap when wearing a belt, buckle and detachable watches, rings, etc. by the strength of friction ground such as careful enough.
• This product is design on the tulle piece is bleed specifications. Repeated washing and wear increases cutting surface, the fray. Please wear the points come to mind if you like fraying where it is removed with scissors.
▼ Please check also comes with tag described before handling.