Switching tunic shoulder was polka dot
Shoulders became a color dot pattern is eye-catching Zootie ( ズーティー )ニットソーワンピ add new colors to the re-appearance! has become a rich five-color expansion added three color conscious of autumn-winter red, "mustard" and "Navy".
This simple silhouette good contrast with dot pattern switching design items. Just spread toward the hem, Ston and straight lines near the body of sweetness is a very adult-like impression, too. Tailored in soft ライトニット material, perfect for the chilly season main use:. So sweet soft woven from directly touching the skin nicely and is comfortable.
---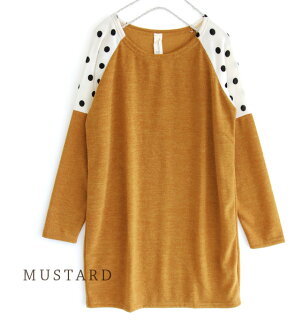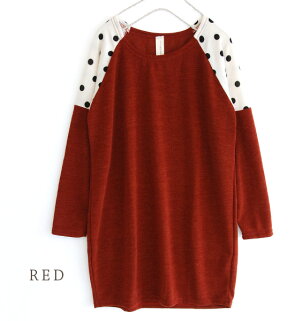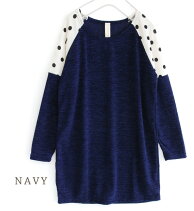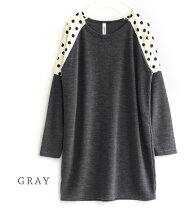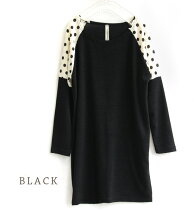 Actual size
Total length 78 cm bust 98 cm sleeve length approx. 71 cm cuff 22 cm
Waist: 94 cm hem around 90 cm
22 Cm low-cut neckline depth 10 cm
* This item is not represented is the size of the shoulders, sleeves, armholes tailoring on the switch of the shoulder is not designed for.
* The size is our open space is the exact size. May differ from the representation of the tags. Click here for details.
Material
100% Polyester
Washing instructions
Production country
Made in Korea
Lining
Without
Stretch fabric
The stretched nicely
Sheer fabric
Somewhat sheer (inner is mandatory) must
Color
Mustard ( a moderate dark because of the ochre )
Red (Size: sense of brownish-red)
Navy (Navy with a bluish tint is gray)
Gray (A somewhat moderate dark gray)
Black (Standard black)
* Common in the switching part of the shoulder is slightly yellowish off-white × is the black dot
Points to note
▼ remains wet for a long time, put in wet friction (friction in particularly wet) and sweat and rain: and other apparel to decontamination if so please with your mind. Also, please wash and other things.
▼ characteristics on the products, the dough taking positions just some individual differences, such as pattern and nuances, different images and facial expressions. Also does not match the pattern in the seam to necessarily.
• This product may oblique line (State looks twisted the entire product) by washing or cleaning on the characteristics of the material.
▼ knit nature, absolutely seamless blend of yarns and frayed some, also is prone to individual differences in the shape and size. Please understand and would like to ask. Also please with the care so prone to trap when worn and detachable, fold on watches & accessories-belts, etc..
▼ Please check also comes with tag described before handling.