In the gentle fabric wear ryuk, border switch one-piece
One piece of the wide sleeves are switched to a border pattern, silhouette. Body with a soft recycled cotton cloth material of NEP.
Deformation silhouette of a drop shoulder and is tailored to a wide width, does not limit the body shape. V a moderate large neckline shape skin familiar fabric sense is so delicate MS is a petite, easy-to-dress items. Tuck placed at the top center of the back, with pockets on both sides of the body.
---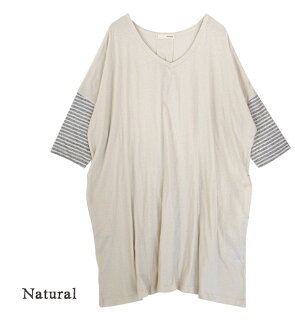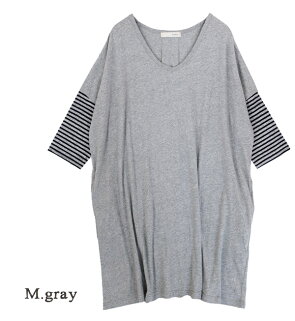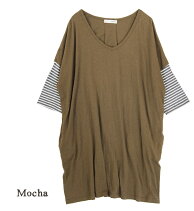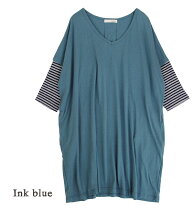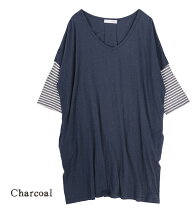 Notation size
"One size fits all."
Actual size
Cm, length 84 cm (measured from shoulder) chest 130 cm shoulder width 72 cm sleeve length 20 cm
Sleeve length 59 cm arm holes approximately 32 cm sleeve 25 cm
Around the hem 140 cm 21 cm low-cut neckline depth 17 cm
* Above sizes are our flat place exact size it is. Is different from the notation size value nude ( JIS standard size ) merchandise tags, etc. Click here for details.
Material
Body: 100% cotton
Separate fabric: cotton 100%
Washing instructions
Production country
Made in China
Lining
Without
Stretch fabric
The stretch a lot
Sheer fabric
Slightly sheer so requires inner ( is light-colored see-through especially )
Color
Natural ( tinged with beige, dull ivory / gray / ivory )
モクグレー ( standard Grey / Heather grey size: sense of x Navy )
モカ ( カーキブラウン / dark grey / ivory )
Ink blue ( dull faded blue / gray / Navy )
Charcoal ( Black faded-charcoal / dark grey / ivory )
* ( ) in is the color scheme of the borders of the body and sleeves
Points to note
▼ Properties prone to pilling ( hairball ). Please wear where it is and when to remove with scissors.
• Hook, please note so easy catching nature and friction and rough surface, such as during insertion and removal, the accessories, belt and surrounding wall and caught.
▼ remains wet for a long time, put in wet friction (friction in particularly wet) and sweat and rain: and other apparel to decontamination if so please with your mind. Also, wash may dye when washing to separate other things.
▼ may shrink slightly by washing or cleaning on the characteristics of the material in the oblique line (State looks twisted the entire product).
• There may be border pattern parts are taking position of the fabric creates a pattern and nuance slight individual difference, different images and facial expressions.
▼ Please check also comes with tag described before handling.