Shoulder strap toggles in two kinds of fabric, Y バックタンク
Wide shoulder strap part became a pattern design, Y バックタンク top. Piping at the neckline and armhole edge is a striking color scheme border pattern. The shoulder strap has been switched over in front and behind the multi-border pattern with an abstract touch blurred floral are alternate left and right in using the dough.
Nicely along the line of the body silhouette, no sluggish cm long and the layering is possible. Inner look and also more lightly season. In sticking to the inner code up a notch better fun! ♪
---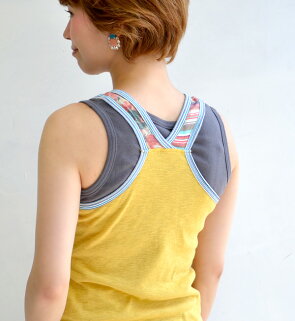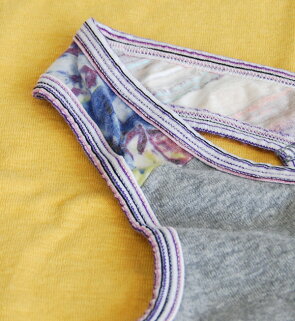 Y back design to the layered style.
Sweeter than thick slabs of cut and sewn fabric.
Notation size
"One size fits all."
Actual size
Bust 68 cm, shoulder width 21 cm overall length approx. 64 cm 40 cm arm holes
Waist 64 cm hem around 80 cm
Approximately 13 cm wide-cut neckline depth 15 cm
* Above sizes are our flat place exact size it is. Is different from the notation size value nude ( JIS standard size ) merchandise tags, etc. Click here for details.
Material
Body: 100% cotton
Flower print: polyester 65% rayon 35%
Border print: 100% cotton
シャーリングボーダー: 100% Acrylic
Washing instructions
Production country
Made in China
Lining
Without
Stretch fabric
The stretch a lot
Sheer fabric
May somewhat transparent ( is light-colored see-through especially )
Color
Yellow (Dull yellow / blue system)
Red (Including white red / yellow-green series)
Turquoise ( Dark because the light blue / light green )
Navy (Shallow Navy / yellow-green series)
Light green (Light green / violet series)
Oatmeal (Beige side of Heather ivory / yellow-green series)
Off white (See a yellow-off white / yellow-green series)
モクグレー (Size: sense of grey and purple series)
Black (A standard black / purple series)
* ( ) in a body x is the color of the collar and sleeves
Related products
There is the same Y back silhouette of theカラフルクロシェニット tank top
Points to note
• This product is printed fabric trimmed pattern each varies. There may be a particularly big impression change significantly. Enjoy your product's personality.
▼ Please enjoy as a unique texture for washing the product, and subtle color, size and texture differences between one point each but.
▼ Properties prone to pilling ( hairball ). Please wear where it is and when to remove with scissors.
• Hook, please note so easy catching nature and friction and rough surface, such as during insertion and removal, the accessories, belt and surrounding wall and caught.
▼ remains wet for a long time, put in wet friction (friction in particularly wet) and sweat and rain: and other apparel to decontamination if so please with your mind. Also, wash may dye when washing to separate other things.
▼ may shrink slightly by washing or cleaning on the characteristics of the material in the oblique line (State looks twisted the entire product) discoloration.
▼ Please check also comes with tag described before handling.