Boyish and cute, different material transition Tee
T-shirt sleeve switched in the casual sense of color scheme border pattern, different material MIX design. A soft body has used materials such as pile area to cut and sewn fabric, sleeves jumped Biocon and looped yarns. Is the silhouette are wearing like a faded logo print and oversized boyish and cute items.
---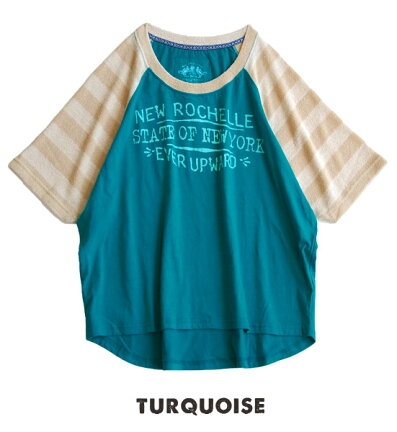 Notation size
"One size fits all."

Actual size
Chest 114 cm length approx. 61-68 cm ( front-measuring from the back and shoulders )
Sleeve length 49 cm cuff 34 cm waist: approx. 110 cm
Approx. 21 cm wide-cut neckline depth 12 cm
* This item is not represented is the size of the shoulders, sleeves, armholes tailoring on the switch of the shoulder is not design for the.
* The size is our open space is the exact size. May differ from the representation of the tags. Click here for details.
Material
Body: 100% cotton
Separate fabric: 61% polyester, 35% cotton, 4% polyurethane
Washing instructions
Production country
Made in China
Lining
Without
Stretch fabric
The stretch a lot
Sheer fabric
May somewhat transparent ( inner with the )
Color
Turquoise
( strong bluish green × blue / yellow beige × dark ivory )
Charcoal
( dark gray × khaki green / light brown x tea mixed with white )
モクグレー
( grey size: sense of x Navy mixed with dark brown / Navy & white )
* ( ) in body x is the print color and sleeve border color
Points to note
▼ so time remains wet for a long time, put in wet friction (friction in particularly wet) and sweat and rain, other clothing to decontamination if you like! Also, please wash and other things.
• This product, on the characteristics of the material by washing and cleaning slightly shrinks the resulting diagonal line (State looks twisted the entire product).
• Easier to fall out and print is not permanent, or more, to be rubbed, also repeat the washing and cleaning by slightly thinner. Also please avoid ironing to the printed piece. May be individual differences prints tints, but enjoy as a characteristic of the product.
• Sleeves and using delicate fabrics, hook, please note so easy catching nature and friction and rough surface, such as during insertion and removal, the accessories, belt and surrounding wall and caught.
▼ characteristics on the products, the dough taking positions just some individual differences, such as pattern and nuances, different images and facial expressions. Also does not match the pattern in the seam to necessarily.
▼ Please check also comes with tag described before handling.