It is most suitable so that a shoulder string of vivid key knitting shows a chiller♪
The tank top which became the 太 crochet needle knit of the color that a shoulder string part was colorful, and was casual. It is affinity preeminence with the wearing clothes one over another with the greatly opened tops of the back in it becoming Y back design! It is the sizing that is most suitable for extra なもたつきのない inner, but has the thickness with the security. The comfort is ◎. at comfortable elasticity
---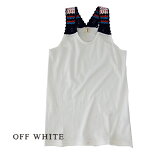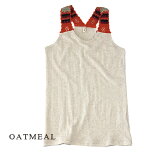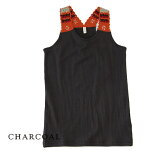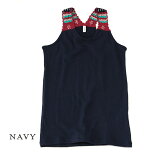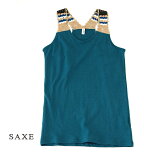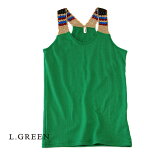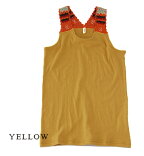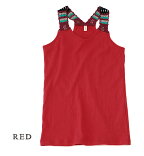 Notation size

《 adjustable size 》

Exact size

Chest measurement approximately 78cm width of the shoulders approximately 23cm length approximately 66cm armhole approximately 39cm




Approximately 16cm in depth of the approximately 14cm in width neckline of the waist approximately 76cm hem circumference approximately 80cm neckline


※The size mentioned above our store flat; put it, and is full scale size. It is different from the notation size level such as product tags (Japanese Industrial Standards nude size). The details of the size from this place.
Material

100-percent-cotton

Washing indication

Production country

Product made in China

Lining

Unavailable

The expansion and contraction of the cloth

I expand and contract moderately

Translucency of the cloth

There is translucency a little (the light color is transparent in particular)

Color

Off-white (standard off-white X dark blue, light blue, orange ivory)
Oatmeal (ivory X darkish orange, red, dark brown, beige close to beige with 杢感)
Charcoal (thick dark brown X darkish orange, red, dark brown, beige)
Navy (rather deep navy X reddish brown, emerald gray, dark blue)
Sax (ivory, dark brown slightly light blue light blue X beige tinged with the creamy)
Light green (light るめの green X beige, red, light blue, dark brown)
Yellow (darkish yellow X darkish orange, red, dark brown, beige)
Red (light るめの red X reddish brown, emerald gray, dark blue)


※() It is the color of the main body of inner は X shoulder string

Product concerned

There is the flower & horizontal stripe shoulder tank top of the same Y back silhouette, too

Matters that require attention

▼I repeat it with getting wet and put it, and, please be careful about other clothes for a long time when you were able to paint by friction (friction in the particularly wet state) and sweat or rain because there is a case to do color migration. In addition, I divide it with other things, and, please wash it because there is a case to perform color migration on the occasion of washing.




▼Length and nuances are slightly different, and the shoulder string part has a piece of a piece of individual difference in a production process.




▼Because a frontal pull-out is easy to occur in material, fiber, in the case of wearing, putting on and taking off, please be careful not to be caught on the risings such as a clock, the accessories belt.




▼In a characteristic of the material, I shrink by washing and cleaning to some extent, and there is the thing that a bias line (the state that it seems that the whole product is twisted) occurs.




▼Before the handling, please confirm mention of the tag attached to the product.