Slab material to print faint, as if in a stylish distressed T!
Casual printed t-shirt with rich slabs of facial expressions. Large order of width, length is relatively short. Your cuff is fixed in folded over. It is a silhouette as well as layering, one piece item easy to use. Specifications print distressed like faded. So rather than casual code only ' Croton and ' the Almighty can be used as the item.
---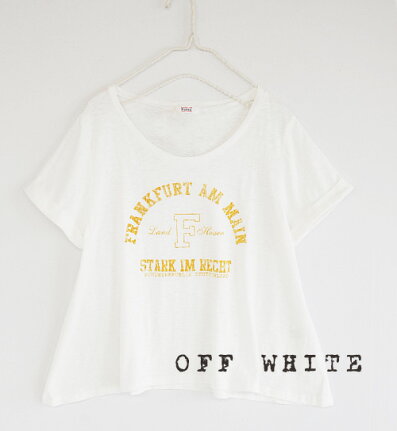 Notation size
"One size fits all."
Actual size
Bust 90 cm, shoulder width 38 cm overall length approx. 54-58 cm ( Central-side )
Cm, sleeve length 17 cm sleeve length approx. 36 cm armholes about 46 cm sleeve 32 cm
West approx. 114 cm hem around 136 cm 25 cm low-cut neckline depth is approx. 12 cm
* The size is our open space is the exact size. May differ from the representation of the tags. For more information of the size Click here From.
Material
100% Cotton
Washing instructions
Production country
Made in China
Lining
Without
Stretch fabric
The stretched nicely
Sheer fabric
May slightly sheer
* Dimmed are see-through, so inner required
Color
Off-white ( standard off-white × yellow mustard old )
モクグレー ( moderate light grey x bright forest green )
Navy ( faded Navy / Blue with white )
* ( ) in a body color x is a color print
Related products
Using the same fabric Tunic-length shirts & V neck T-shirt Also available
Points to note
▼, because we have to wash the product after the sewing, this product is slightly distorted as products of distinctive enjoy wearing every wrinkle, Atari etc are found subtle colors blur or Fuzz, etc.,.
▼ remains wet for a long time, put in wet friction (friction in particularly wet) and sweat and rain: and other apparel to decontamination if so please with your mind. Also, please wash and other things.
• Easier to fall out and print is not permanent, or more, to be rubbed, also repeat the washing and cleaning by slightly thinner. Also please avoid ironing to the printed piece. May be individual differences prints tints, but enjoy as a characteristic of the product.
• This product, on the characteristics of the material by washing and cleaning slightly shrinks the resulting diagonal line (State looks twisted the entire product).
▼ Please check also comes with tag described before handling.