-Free necklace! Halter top with CAMI
Colorful keys with a knitted Halter neck Camisole. It is excellent inner the neckline. Key to a hand-made crochet on the chest will drop open. Wood button plus the natural impression also points ◎. Born in the back of the neck as well as the neckline of necklace-free Ribbon from behind is very cute! nothing more than sheer moderate thickness sew further this rich color development. This is the inner will skip a beat.
---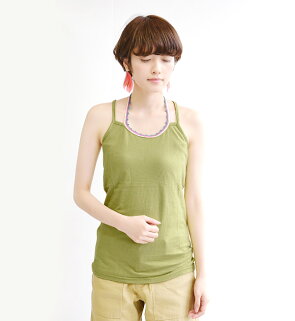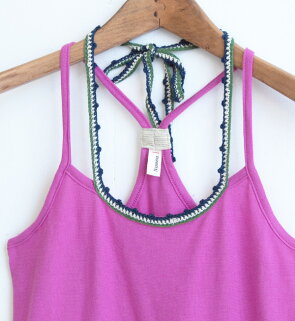 Halter Ribbon under the neck from behind.
Hook lace colorful drop open chest and.
Natural wood button is to the point.
Notation size
"One size fits all."

Actual size
Bust 80 cm length 62.5 cm shoulder strap approx. 15 cm waist: 76 cm hem around approximately 81 cm
* Camisole for a width of the depth of the shoulders, armholes, neckline, neckline, transcribed.
* The size is our open space is the exact size. May differ from the representation of the tags. Click here for details.
Material
100% Cotton
Washing instructions
Production country
Made in China
Lining
Without
Stretch fabric
The stretch a lot
Sheer fabric
Gray: has slightly sheer
Dark: most 透けません
Color
Off white<>
[Feeling faded red × blue x feeling faded light brown]
Natural ( standard off-white )
[Green with a bluish tint x Dark Navy × pink dull]
Yellow (Gonna do little mustard)
[Deep purple * dark yellow to Orange x off white]
Orange (The reddish strong dark orange)
[Mauve sheer purple x strong bluish green / off-white]
Dark pink (Dark purple-pink)
[Off white x blue x pale purple]
Red (Slightly faded dark red)
[Somewhat faded green x dark brown with reddish × off-white]
Sachs (Pale greenish-blue)
[Off-white x thin feeling faded green / Navy]
Emerald (Slightly faded dark emerald green)
[Vivid dark yellow x off white x charcoal grey]
Gray (Of feeling dull pale grey)
[Mauve sheer purple x off white x Blue]
Charcoal (Of feeling dull dark charcoal gray)
[Feeling faded red x off white x feeling faded dark green]
* ( ) in body color, [] key in the Ami is the color of the race
Related products
Using the same colorful Clocher race
Y バックタンク top &クロシェレースストラップ tank top
Points to note
▼ may stain other clothing when wet with sweat and rain, so be careful! Moreover, by friction wear in fall colors. Please avoid possible combinations layered clothing and white goods etc. Also, please wash and other things.
• String parts production process on a somewhat different length and nuance, at one point one point difference.
• Materials, please be care fibers on the trap-prone, so wear and removal when the fold on watches & accessories-belts, etc..
▼ may shrink slightly by washing or cleaning on the characteristics of the material in the oblique line (State looks twisted the entire product).
▼ Please check also comes with tag described before handling.