Touching your skin also feels good, border pattern pullover
Vivid color scheme was put in line's characteristic border patterns knitwear. Please feel free to even more cum and uses easy to slip a nice and soft cotton knit material. Sumant sense at the turn of the seasons premonition of ◎. The only compact sizing for odd-length sleeves, modestly open neckline is the key for ease of use.
---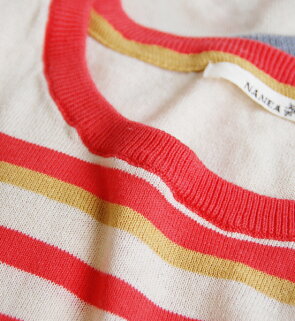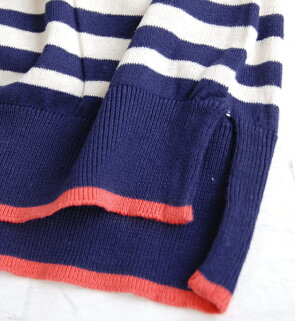 Soft texture is comfortable, thin cotton knit material.
Into the slit on the tail side, differ in length.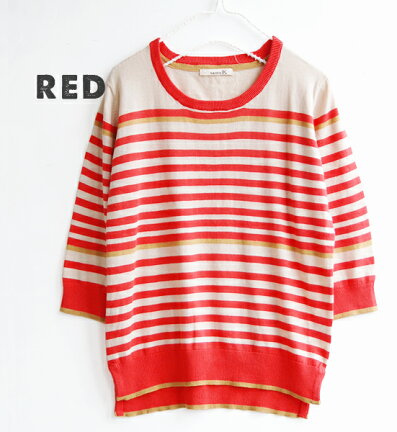 Notation size
"One size fits all."

Actual size
Ringtones shoulder 39 cm bust 104 cm length approximately 60-65 cm ( from shoulder and front-back )
Sleeve length 40 cm sleeve length 59 cm armholes about 40 cm sleeve 18 cm
Waist: 96 cm 20 cm low-cut neckline depth 11 cm
* The size is our open space is the exact size. May differ from the representation of the tags. Click here for details.
Material
100% Cotton
Washing instructions
Production country
Made in China
Lining
Without
Stretch fabric
The stretch a lot
Sheer fabric
Be transparent
Color
Red ( light beige / dark orange * yellow mustard )
モクグレー ( light beige x bright モクグレー × dark orange )
Navy ( light beige x Navy Blue / dark orange )
* ( ) in a body color x subject lines and color x is the color of the color line

Related products
In the suit, also crew neck Cardigan
Points to note
• Knit nature, just "thread seams" and somewhat "fray", also in shapes and sizes prone individual product is. As you can understand thank you.
• This product is used very delicate material. Has a nature open stitch and join the vigorous and strong force. Trap when wearing a belt, buckle and detachable watches, rings, etc. by the frictional strength of ground such as 10 minutes please be careful.
▼ remains wet for a long time, put in wet friction (friction in particularly wet) and sweat and rain: and other apparel to decontamination if so please with your mind. In addition, alone, your laundry.
• Friction pilling ( hairball ) totono, characteristics, prone to hairballs or balls. Please wear where it is and when to remove with scissors.
• There may be characteristics on the products, some individual differences, such as pattern and nuances, different images and facial expressions. Also does not match the pattern in the seam to necessarily.
▼ Please check also comes with tag described before handling.