KRIFF MAYER ( cliffmeyer )
To expand the feeling of relaxation while based on casual, outdoor and marine taste dropped items KRIFF MAYER ( cliffmeyer ). Is a branded dairy combines comfort and cuteness were proposed.
ユルめ easy to use with simple lines.
Cliff Meyer's favorite, cheek was tender lumps フェアアイルボーダー pattern knit tunic. At the turn of the seasons is in one piece. It is active long season if Inn long sleeve during the cold season, sheer soft knit material.
HDLC clear sleeve even width ユルめ will change into a beautiful silhouette fit physique of people follow the line of the body gently line is so. Point toward the hem range Ston and spread A line of code and easy to use. Is attractive, happy to wear a warm tingling feeling less wool mixed knit.
---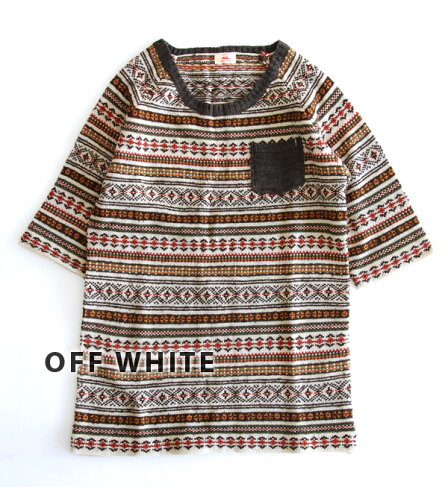 Notation size
"M-size" (one size)
79 – 87 Cm bust 154-162 cm tall
Actual size
Bust 100 cm length approx. 74 cm (measured from shoulder) sleeve length 56 cm.
Cuff approximately 31 cm waist: approximately 100 cm hem around 104 cm
20 Cm low-cut neckline depth 11 cm
* Switching shoulders not raglan sleeves design for shoulders, sleeves, armholes the size not indicated.
* Knit to size slight individual difference arises. Notation size should be considered approximate.
* The size is our open space is the exact size. May differ from the representation of the tags. Click here for details.
Material
Acrylic 20% wool 80%
Washing instructions
Production country
Made in China
Lining
Without
Stretch fabric
The stretch a lot
Sheer fabric
See-through from the stitch
Color
Off white (Ivory and charcoal grey, dark brown, dark green, red and ochre)
Red Vermillion red, charcoal grey, ivory, ocher, blue
モクグレー ( somewhat moderate grey and slightly bluish charcoal gray, Brown, ivory, red and blue )
Brown Slightly brownish charcoal gray, ivory, red, ochre, dark green
* ( ) pattern scheme is in
Related products
KRIFF MAYER ( cliffmeyer ) product list
Points to note
▼ remains wet for a long time, put in wet friction (friction in particularly wet) and sweat and rain: and other apparel to decontamination if so please with your mind. Also can leave because the infection when washing you may wet and soaked in water for a long time put please avoid that. Please wash, separate from other things.
▼ may shrink slightly by washing or cleaning on the characteristics of the material in the oblique line (State looks twisted the entire product).
▼ Properties prone to pilling ( hairball ). Please wear where it is and when to remove with scissors.
• Materials, please note that fiber on the trap-prone, so wear and removal when the fold on watches & accessories-belts, etc..
Note • easy to grow due to the nature of the material, including the hanger scant stability of such dimensions and shape that please.
▼ characteristics on the products, the dough taking positions just some individual differences, such as pattern and nuances, different images and facial expressions. Also does not match the pattern in the seam to necessarily.
▼ Please check also comes with tag described before handling.