Adult casual style Cliff year.
To expand the feeling of relaxation while based on casual, outdoor and marine taste dropped items KRIFF MAYER ( cliffmeyer ). Is a branded dairy combines comfort and cuteness were proposed.
This T-shirt features a?
More boobs and a casual t-shirt made of fluffy cotton material,. Tailored in simple body half sleeve raglan sleeves, not too tight, just a ユル line.
Because the print is mock and flocking print a three-dimensional and paint print gentle presence in different impressions may also. Cute picture of rabbit run ♪ big bleed eternally ロックステッチ, cuffs and hem a round texture, etc. Casual fashion detail is also featured.
---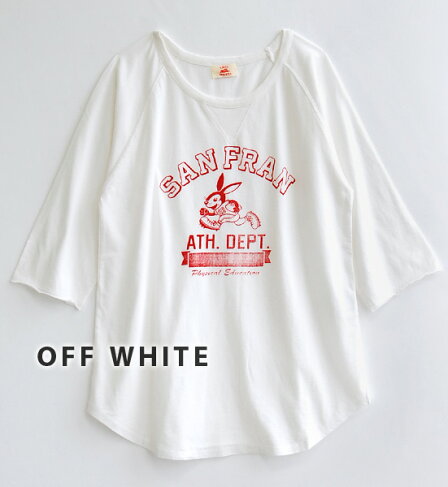 Notation size
"M-size" (one size)
79 – 87 Cm bust 154-162 cm tall
Actual size
Chest 88 cm length 57-64 cm ( aside-measure from the Center and shoulder ) sleeve length approx. 52 cm
Sleeve 26 cm waist 88 cm hem around 94 cm
20 Cm low-cut neckline depth 10 cm
* Switching shoulders not raglan sleeves design for shoulders, sleeves, armholes the size not indicated.
* The size is our open space is the exact size. May differ from the representation of the tags. Click here for details.
Material
100% Cotton
Washing instructions
Production country
Made in China
Lining
Without
Stretch fabric
The stretch a lot
Sheer fabric
Almost 透けません ( is grayed out because the sheer sense of inner combination recommended the )
Color
Off white ( slightly yellowish off-white × dark order of Red )
Mustard ( feeling faded yellow old dull orange / black )
モクグレー ( moderate light grey x bright Ultramarine )
Charcoal ( Black faded color x light grey )
* ( ) in a body x is a color print
* Mustard and charcoal has a sense of fading the light parts
Related products
KRIFF MAYER ( cliffmeyer ) product list
Points to note
▼ planned to kill not dare cut edge of the fabric cuff, so increases the cutting surface, the fray worn repeatedly. If fray comes to mind where it is, be careful to remove with scissors.
▼ Please enjoy as a unique texture there differences such as subtle color, size, texture, doing a special processing for one point for each.
• Easier to fall out and print is not permanent, or more, to be rubbed, will be slightly thinner. Enjoy texture of its own products, but may have individual prints tints. Also please avoid ironing to the printed piece.
▼ may be discolored because of the other seperately, please wash.
▼ so time remains wet for a long time, put in wet friction (friction in particularly wet) and sweat and rain, other clothing to decontamination if you like!
▼ may shrink slightly by washing on the characteristics of the material in the oblique line (State looks twisted the entire product).
▼ Please check also comes with tag described before handling.